All three 6th Classes recently had their Service of Light. Emily Lowe in 6th Class has written this piece about all the preparation that went into it!
On the second of February, St. Anne's Sixth Class, along with a handful of students from other schools, celebrated our Ceremony of Light. The Ceremony of Light is an important Catholic event, as it focuses on our parents sharing their light of faith with us. This is a key step in preparing for our Confirmation.
To prepare for our Ceremony of Light, Ms. Maguire and Ms. Elmes asked students to participate in the choir. A few students from each of the three Sixth Classes volunteered, and choir rehearsals were held to practice our hymns. Our Sixth Class teachers, our Sixth Class SNA, and Father Jamie helped us greatly to prepare for this celebration, and I think I speak for everyone when I say their faith inspired us every step of the way.
At seven o'clock in the evening, we all gathered in St. Anne's Church. Every family had a Holy Candle that would be passed from parent to child toward the end of the ceremony. Once everyone was seated, the members of the choir began with the opening hymn: "Shine, Jesus, Shine." When the hymn was over, we returned to our seats in the pews, and the ceremony began. Father Jamie gave a speech about a scene in The Lion King and linked it to God speaking to us, his sons and daughters. The teachers came around and lit our Holy Candles, and then the time came for our parents to pass the candle of faith to us. The choir sang the closing hymn: "This Little Light of Mine," and the ceremony came to an end!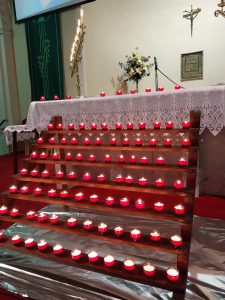 By Emily M. Lowe