On Tuesday March 13th four students from Clonkeen College, including two past pupils of St Anne's visited Ms. Aivalikli's class. The Clonkeen students are taking part in a competition called the 'Consat'.
The day started with a presentation to explain how they made and launched a water rocket and a parachute. The parachute was made from a plastic polyester in the school colours black and amber. The rocket was made from a plastic bottle and a pump.
After the talk everyone went outside to see if the rocket could be launched. They all waited eagerly. There was a great excitement when the rocket took off.
What an exciting day for everyone!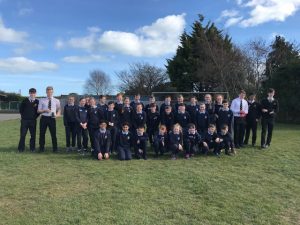 Written by Ella and Eoin, Media Team