Hello and welcome back to our blog!
Ideally, I would love to be sitting here writing about all the fun and interesting things we've been learning and doing in our classroom this month but unfortunately we're all still stuck behind a computer screen. That's not to say we're not learning because we most certainly are, using our online platform Seesaw! I've loved looking at all the photos and videos of the children's reading, artwork, Aistear and exercise in this glorious sunshine that we've been having. I can see how much they have come on in these few weeks online, through the fantastic work they are submitting for feedback. Children are so resilient and I've never been more proud of all the children in my class for taking this all in their stride and producing amazing work at home. This all, of course, would not be possible without the support of their parents. I fully appreciate the amount of parental involvement it entails, especially for younger children, so I wanted to say a big thank you to all the parents for getting on board with this. We all have to work together and try our best in these extremely challenging times.
I decided this month, instead of telling you about the work we were doing at our virtual school myself, I'd ask the children to! A big thanks again, to the parents for sending me in their children's messages and photographs. I hope this will be something like a time capsule, that you can look back on in years to come. These messages certainly brought a smile to my face and I hope they bring you some joy too.
"I have played lots of football , eaten lots of Easter Eggs and my baby sister, Grace, is nearly ONE and she has started walking. She loves playing with me, we have had lots of fun at home but I can't wait to see all my friends in school soon. My favourite part of my home school work is Aistear, the song we listen to at the start of every day and art. I liked the Alien and Weather Art the most." – Luca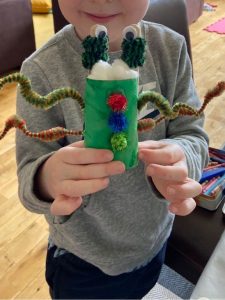 "I wish Covid was gone. I miss my friends and the two playgrounds at school. Mummy is half as good as Ms. Olson at teaching. I love playing at home and going on bike rides too." – Zack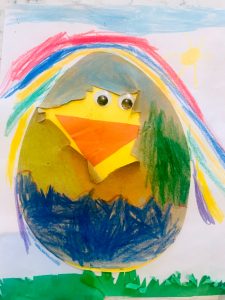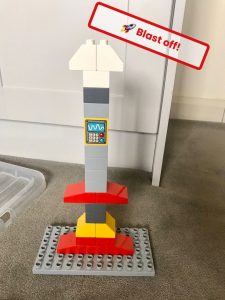 "Stay Home, Stay Safe! I miss you Ms Olson's Class." – Séamus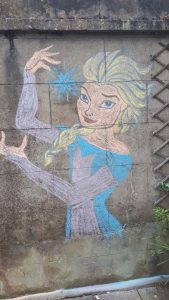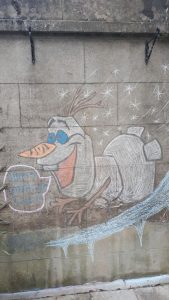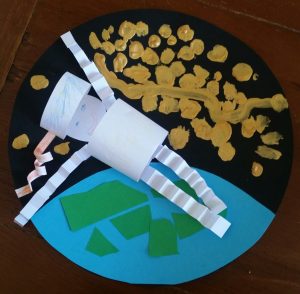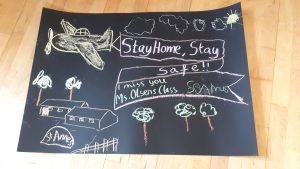 "Hi everyone in Ms Olson's class ☺ I lost my first tooth yesterday. The tooth fairy came last night and left me a note and some money 😆😆!! Look forward to seeing you all soon. Love you all from Naoise Xx" – Naoise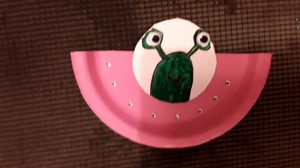 "Julia misses school, especially her friends, a lot. She's constantly asking when she will be able to go back to school, say hi to everyone and play with her friends. She's not the only one, all the kids miss their friends and can't wait until this nasty virus will go away. To make those days happier and a bit magical, kids from Olcovar decided to invite fairies to our community garden. If you walk around the picnic area you can spot many colourful fairy doors! Julia asked her Daddy for help and they both made a pair of pink, glittery doors for our own garden fairy – Rosie (we have already one at home, her name is Daisy)." – Julia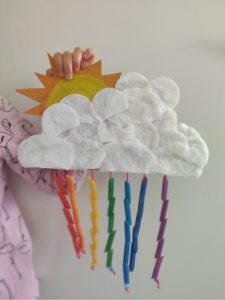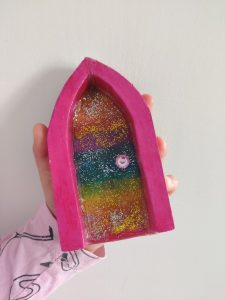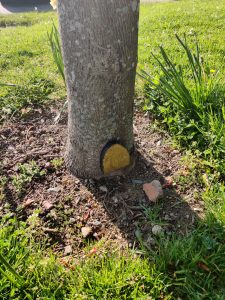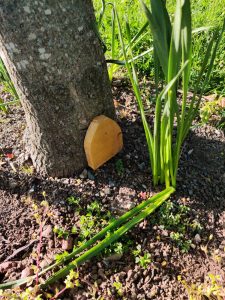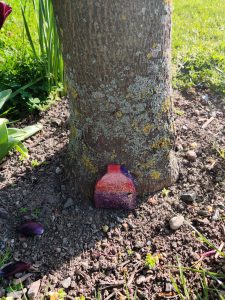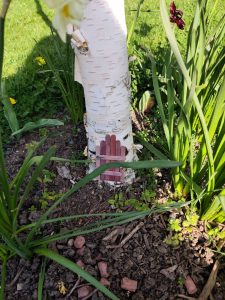 "The biggest thing I miss is Ms. Olson ☺" – John
"Learning at home with my brother and sister is fun. I like playing with Sadhbh & Adam helps me with clay. I miss my friends and my teacher though. The weather is great – we got super soaker water guns to play in the garden. Lots of love Zoe" – Zoe
"I went on a walk. I saw flowers. It was fun. I went with my Dad." – Lucy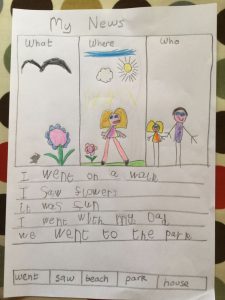 "I am missing my friends in school but I have been having lots of fun with my family. I have made a picture wall in my house with lots of different art. We have had fun doing family Go Noodle." – Louis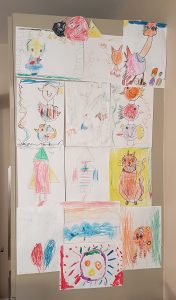 "I like being at home spending time at home with my mummy, daddy and my sister. I get to play in the garden and mummy and daddy get to do more gardening. I get to play games and bake scones. One day I might use my scientist set. What I don't like: I don't get to do normal stuff like going shopping, going out and I miss my friends and the playground. It's boring for everyone including Ms. Olson who can't do her teaching." – Robyn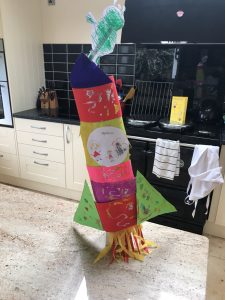 Well that's it for this month! Thanks again to the children and their parents for these gorgeous messages. I'm going to finish this post with a little quote which I think is very apt at the moment and of course is from an amazing book! "Happiness can be found even in the darkest of times, when one only remembers to turn on the light." – Albus Dumbledore.