We had a great start to the New Year in Room 17 – check out what we've been up to across the month of January…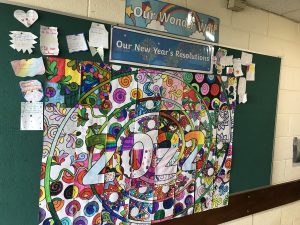 In Literacy, we studied a Chapter of C.S Lewis' 'The Lion, The Witch and The Wardrobe' as a focus for our narrative writing. We were inspired to write some 'magical doorway' themed stories ourselves in school and some wonderful short stories for the 'Write a Book' competition also – many budding authors showcasing their creativity. In addition, we have been studying persuasive writing this month. We really enjoyed brainstorming and debating a range of topics from gaming to homework and many more – excellent arguments on show with great rebuttal to see!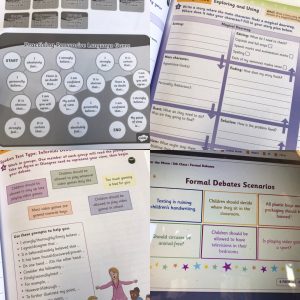 As Gaeilge, bhíomar ag díriú ar na téamaí 'Siopadóireacht' agus 'Mé Féin'. Bhíomar ag cleachtadh foclóir bainteach le na cineálacha siopaí atá ar fáil, cad is féidir a cheannach iontu agus conas cur síos a thabhairt ar an gcostas atá ar rudaí. Bhíomar ag déanamh dul siar ar chomhráití bainteach le cur síos a thabhairt fút féin, faoi codanna an chorp agus na postanna a mbeidh againn nuair atáimid fásta aníos. Ó thaobh na gramadaí de, rinneamar obair ar na briathra neamhrialta san Aimsir Fháistineach chomh maith le obair ar an Aidiacht Shealbhach.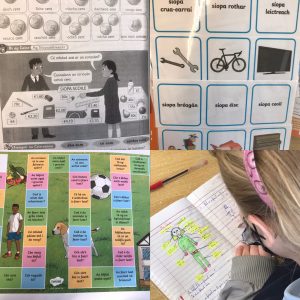 In maths, we have been focusing on percentages – a very useful real-life topic. We have been learning to calculate percentages of numbers, including percentage increases and decreases. We also focused on the measures strand with some weight and capacity work – revising how to change units, add, subtract, multiply and divide different weights/capacities.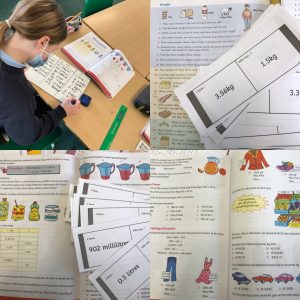 In History, we studied 'The American Revolution' and 'The French Revolution'. We used the iPads to research some of the key events and read some comprehensions to delve a little further into these revolutionary times.
In Science, we focused on the theme of 'sound'. We learned about the structure of the ear and the different functions of these parts. We also completed some experiments to show how sound travels as vibrations. We even made our own straw flutes to illustrate our work on pitch.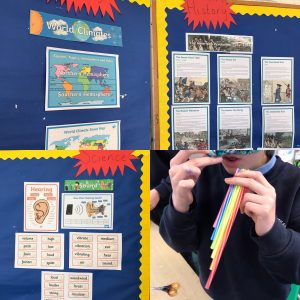 In Geography, we studied the different climate zones of the world, using our atlases to help us locate what climate zones related to certain locations around the world. We also learned about the latitudinal and longitudinal lines around the globe that help us to identify locations around the world and how they are linked to the climate zones and the time zones.
In Art, we drew some lovely hot chocolate inspired mugs to heat us up on these cold January days. We also studied the artist James Rizzi and used his artwork as inspiration for our own cartoon inspired cityscapes.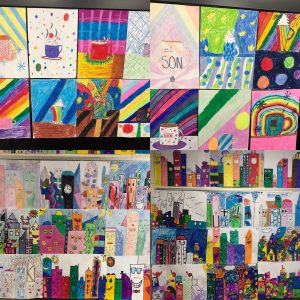 In Music, we studied the history of 'hip-hop' and practiced some rapping. We also enjoyed some rhythm and performing work on DabbleDoo. We learned two new songs as Gaeilge as well – 'Can't Stop The Feeling' by Justin Timberlake and 'A Sky Full of Stars' by Coldplay.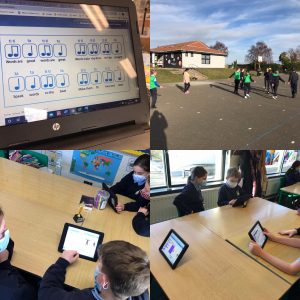 In PE, we concluded our cycling course which we really enjoyed and will hope to reap the practical benefits of over time. We also have been focusing on team games like football and Olympic handball to extend our ball skills and teamwork ability.
In SPHE, we have started the 'Stay Safe' programme and we focused on the topic of 'Feeling Safe and Unsafe'. Lots of practical discussion and scenario work extending our decision making.
We also really enjoyed getting to grips with some more coding using Scratch with Ms. Aivaliki. She introduced us to some of the basics of the coding world using this great resource – a really enjoyable afternoon had by all!
We also celebrated 'Grandparents Day' as part of 'Catholic Schools Week' – although they couldn't be present this year, we were reminded of the memories we share and the love they give us.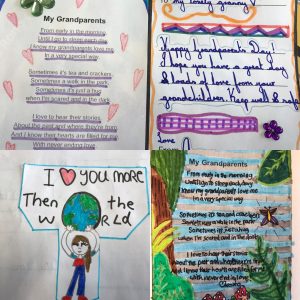 Thanks for reading!