Welcome back to Ms. Olson's Junior Infants Blog! In November we explored the theme of food. In Aistear, we had great fun playing the Pizzeria, the Bakery and the Supermarket. In the Pizzeria, we pretended to be customers, waiters and chefs. The waiters showed us to our table, gave us our menu and took our orders. Then the chefs cooked the delicious pizzas and once we had finished we had to pay the bill. In the Bakery, we pretended to be bakers, shop assistants and customers. There were plenty of yummy treats to buy in the bakery. Finally in the Supermarket, we filled our baskets with food and brought them to the till where we placed them on the conveyor belt to be scanned. Unfortunately there were a few spillages and lost children at our supermarket so we had to announce these events over the intercom! We also enjoyed playing small world whereby we acted out going to a restaurant or we constructed furniture to go into our restaurants. We liked playing with playdough making pizzas and cakes. We also did a lot of cut and stick sequencing activities to practise our fine motor skills including 'How to Make a Pizza' and 'The Story of the Little Red Hen'.
In English we continued to learn our Jolly Phonics and we wrote about our favourite food in our copies. We read the stories 'Pizza at Sally's' and 'The Little Red Hen' to learn more about pizza making and bread making. In Gaeilge we learned some simple songs and phrases relating to the theme Éadaí (Clothes) and Bia (Food). We loved singing all the 'cotá' songs such as 'Cuir ort do Cóta'; 'Bain díot do Cóta' and 'Croch Suas do Cóta'. In Maths we continued learning about number – playing number games, counting games and writing our numbers. We also started learning about length. Some of the activities we did included making different lengths of objects such as threading beads, unifix cubes, playdough snakes and interlocking links within a given time. We then compared these lengths to see who built the longest / shortest length etc. We also went on a length hunt to find objects taller / smaller than a certain object. We continued to learn about pattern extending our knowledge to three step patterns such as ABCABC and AABBCCAABBCC.
In S.E.S.E, we had so much fun learning all about pizza. We were so lucky to make our own pizza. We were invited to Ms. Woods' class to learn how to make pizza dough from scratch. We then watched it prove in our classroom, we had to put it in a warm place to ensure it worked properly. The next day we rolled out the dough and added toppings to the pizza before cooking it in the oven. It was so delicious! We were also so lucky and grateful to have a fantastic visit from Aoife who made soap with us. We learnt how important it is to look after our environment and one way to do that is to ditch the plastic soap containers and make our own soap! We added our own scents to the soap mould before setting them in the freezer.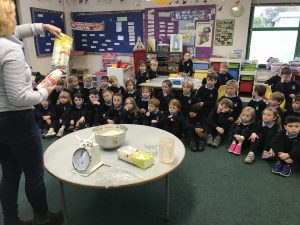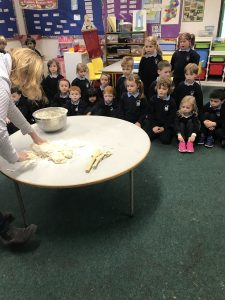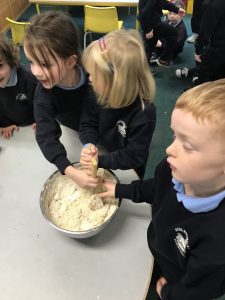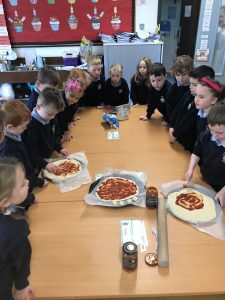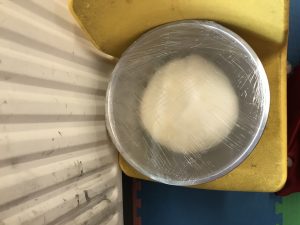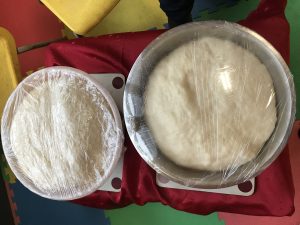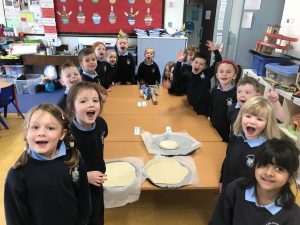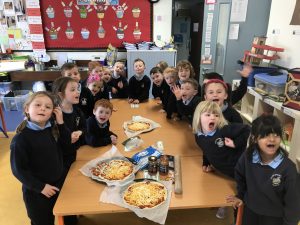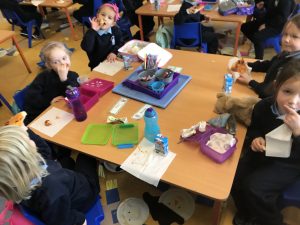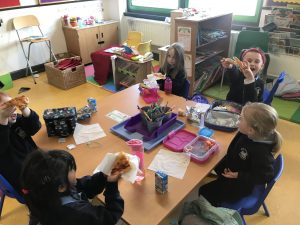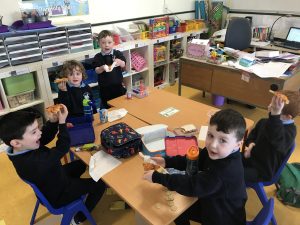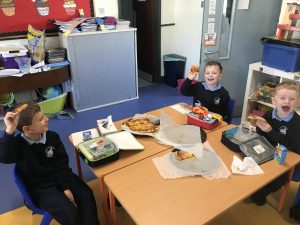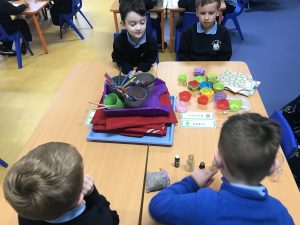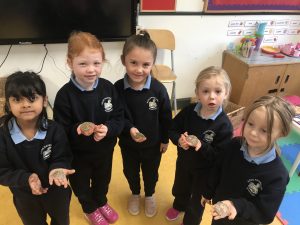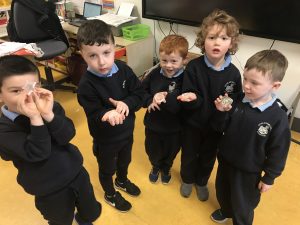 In Music we enjoyed learning the songs 'Miss Polly had a Dolly'; 'Down by the Station'; 'Mise an Traein' and of course all of the songs for our Nativity play – 'Our First Nativity'. In Art we had lots of fun making paper plate pizzas – they looked good enough to eat! Finally in drama – we were very busy preparing for our Nativity Play which we performed for our parents in December!