Hello, hello, and welcome back to St. Anne's news!
Today, I will be informing you of the latest exciting event here in St. Anne's…….The Talent Show! It was organised and run by the Student Council. It was a fundraiser for the student council who are interested in buying new yard equipment.
Everyone with a special talent was able to present it to the whole school. Many amazing performers took part and hearty congratulations to everyone who did. I was lucky enough to get an exclusive interview from one of the performers Ima Nwozu and one of the many organisers of our Talent Show Hannelie Foley from the Student Council!
Ima says her favourite thing about doing the talent show was the practices and seeing all of the amazing talent from all the participants. She sang "Way too good at goodbyes" while her partner Jennifer O'Dwyer amazingly danced ballet to perfection, to the melodious voice of Ima. She said that she would definitely take part again. She has benefited from the talent show because she is more confident now and in one word she described the experience as 'amazing'!
Hannelie has enjoyed preparing for the Talent show, as she found it fun. Her favourite part was watching everybody perform. She hopes there will be another Talent Show next year, and in one word she describes it as 'productive'. Thanks for Reading folks! 😊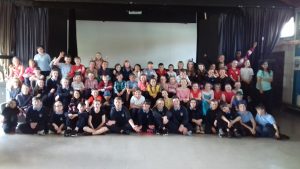 By Ava, Media Team