What a busy month we've had in Senior Infants! Our monthly theme was 'The Sea' and we had great fun exploring this topic.
In English we read the stories, 'The Snail and the Whale' and 'Sharing a Shell' by Julia Donaldson and discovered that Julia is a big fan of rhyming words just like we are! We love 'Rhyme Time' in our class each morning! We found some very interesting words for our word wall and we liked writing our own adventures for the Snail and the Whale. We also wrote about a time when we went to the seaside (real or imaginary!).
In Maths we had great fun learning about capacity. We sorted different sized containers and estimated and measured how much water, sand and different materials could fit into them. We also decided which containers would be best for holding different materials. Ms. Olson played a trick on us in our last capacity lesson – she poured water from a small container into a larger container and asked us if the containers had the same amount of water in them or whether they were different! Ms. Olson managed to trick quite a few of us (hehe!).
We had great fun in S.E.S.E this month. We learned about 'The Titanic' and constructed our own Titanic models in Art. We investigated different materials from the seaside including sand, pebbles, stones, sea glass, driftwood and even seaweed. We were able to touch the materials and feel the difference that water had on them. For example, when the seaweed was dry it felt quite crunchy and hard and when wet it was slimey and slippery! We also did a floating and sinking experiment and made predictions about which objects would float and which would sink. We learned about some interesting sea animals too. Did you know that an octopus has blue blood? We were very lucky to receive a Big Grow package from our friends at Innocent. We grew some lovely cress, spinach and peas and made sure to water them everyday.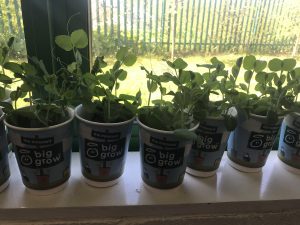 In Music, we learned the song Apusski Dusky and performed it for the Junior School at assembly. We also listened and resonded to songs from The Little Mermaid – 'Under the Sea' and 'Part of Your World'. In Art, as well as our Titanics, we made jellyfish mobiles and newpaper sharks and in Drama, we helped 'The Rainbow Fish' decide what to do with his shimmering scales.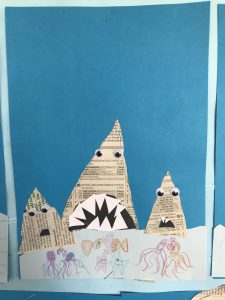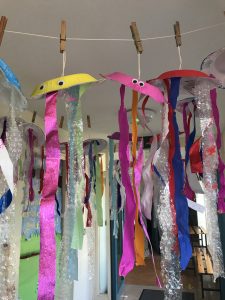 We had great fun in our Aistear stations this month, in particular, we really enjoyed our time in 'The Pirate Ship'. We also loved our time at the water and sand play station. We love getting messy!
However, perhaps the biggest news we have from Senior Infants this month is: We welcomed four beautiful ducklings into the world! We incubated the eggs for 28 days and on the 25th and 26th April 2018 we welcomed James Pond, Smash, Sir Quacks-a-lot and DJ Tiny into Senior Infants. At two weeks old, they are now too big to come to school anymore and they are off to a lovely new farm home in Enniskerry to be with some other ducks. We'll miss their little chirps in the classroom!
That's all from us here in Senior Infants, we hope you've enjoyed reading our blog post!