We had a fantastic month in December as we were doing lots of fun activities surrounding our theme – Christmas, and we were visited by our elf – Snowflake!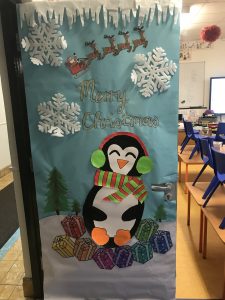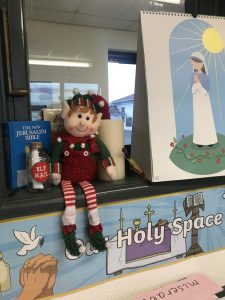 In Aistear, we absolutely loved playing in the Post Office / Santa's Workshop Home Corner. During the first week in December, we wrote our letters to Santa and posted them to the North Pole in our very own postbox. We had to buy stamps from the Post Office first. Afterwards, the Post Person delivered the letters to Santa and his elves. Santa designed the toys in his workshop and the elves made and wrapped the toys. Once checked off by Santa, he packed his sack and delivered the toys to all the children. His reindeers helped him to fly his sleigh! In week two, we focused on sending Christmas cards in the Post Office!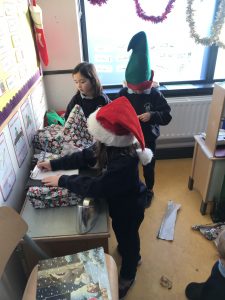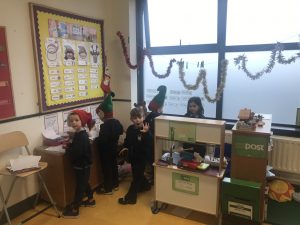 We also enjoyed playing Small World in Aistear. The children set up their town and pretended that the post person was coming to deliver letters and parcels. At night time, Santa came and delivered all his presents. We liked our playdough station too, we made lots of cookies and cakes for Santa. We also baked real cookies for Santa, but we decided they wouldn't last until Christmas so we had to eat them ourselves! During the last week of school, we had freeplay and enjoyed choosing our own toys to play with!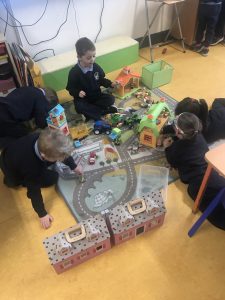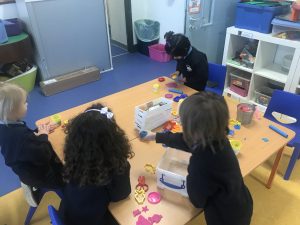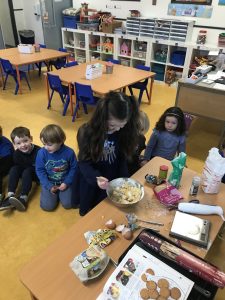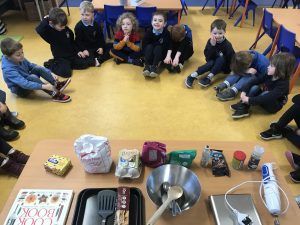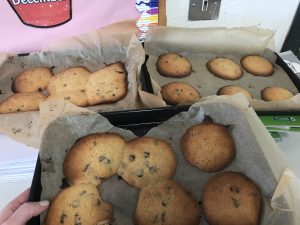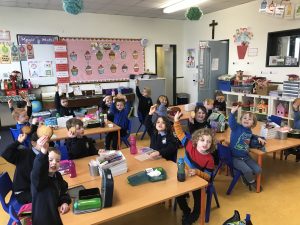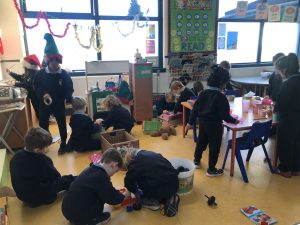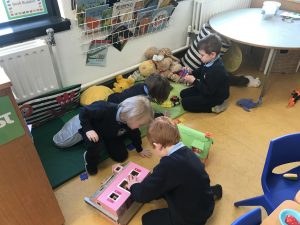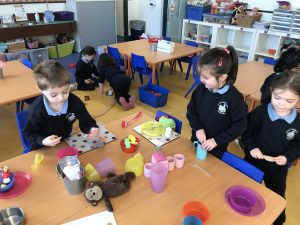 In English, we continued learning our Jolly Phonics sounds. We are improving everyday at learning our Tricky Words and our blending is coming along so well too. Soon we will be able to read little books! We enjoyed reading lots of Christmas and Winter themed books including 'Bear Snores On' by Karma Wilson, 'One Snowy Night' by Nick Buttersworth, 'The Jolly Postman' and 'The Jolly Christmas Postman' by Allan and Janet Ahlberg.Our handwriting is really coming along too, we started our handwriting workbook and we enjoyed writing a short letter to Santa as well as simple sentences in our copy books.
In Gaeilge, we enjoyed learning about 'Caitheamh Aimsire' (Hobbies) and 'Ócáidí Speisialta – An Nollaig' (Special Occasions – Christmas) using our Bua na Cainte programme. We love singing the songs, playing the games and listening to the stories.
In Maths, we learned how to sort objects according to two properties. We also learned about time. We focused on learning the days of the week as well as sequencing stories such as 'The Very Hungry Caterpillar' by Eric Carle. We enjoyed playing lots of time challenges and we timed them by counting the number of claps it took to complete the challenge. We compared the times it took to do two different challenges when we played the game, 'Who Finishes First?'. One child had to do an activity such as building a tower of unifix cubes whilst the other child had to do a physical activity such as jumping jacks. We had to guess who would finish first and then test out our theories!
In S.E.S.E, we learned about the signs of Winter as well as learning all about the story of Christmas. We explored toys too – we compared toys from today and toys from the past, we investigated which toys are pulled and which are pushed and we even designed our own toys in groups before constructing them out of materials found in the classroom. On our last day of school, we made fake snow using poly sodium acrylate – the non-toxic substance found in nappies!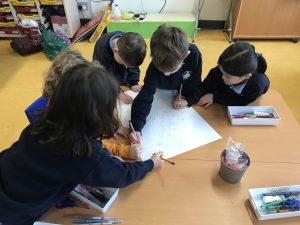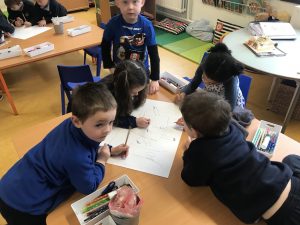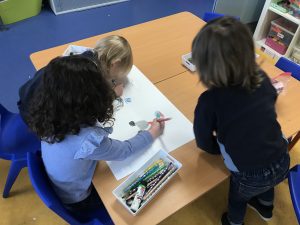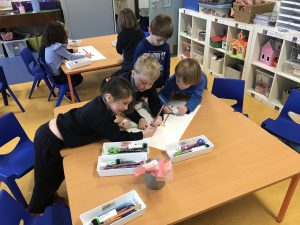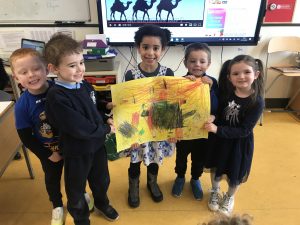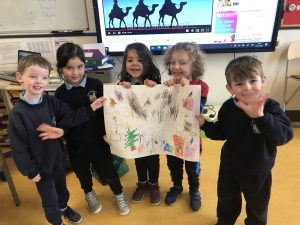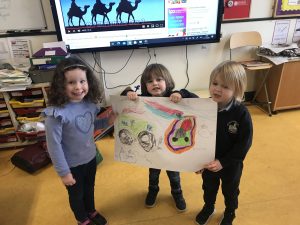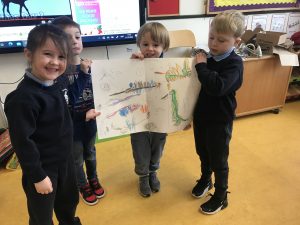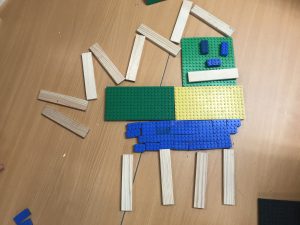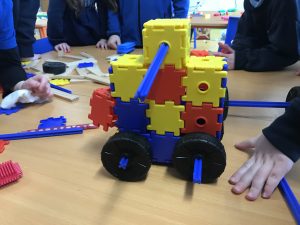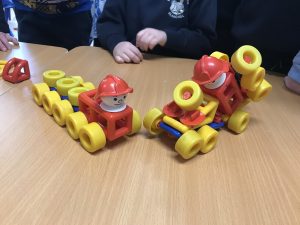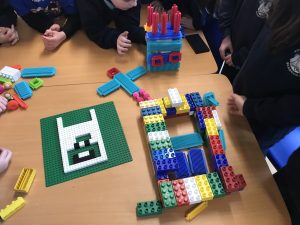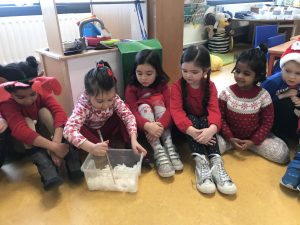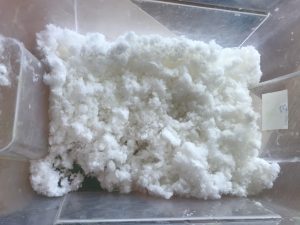 We did lots of Christmas art this month including Christmas elves, stained-glass Nativity scenes, cardboard angels, handprint robins, Christmas wreaths and Christmas cards! Take a look at our creations. All of the Fourth Classes made houses and created a Winter Wonderland! We got to visit it, it was so pretty.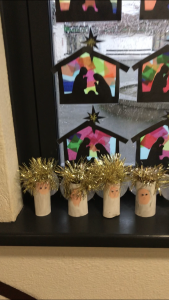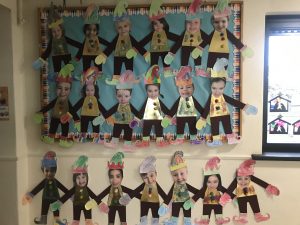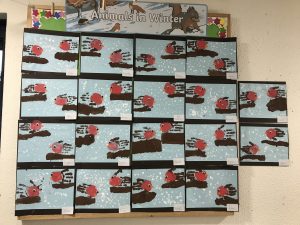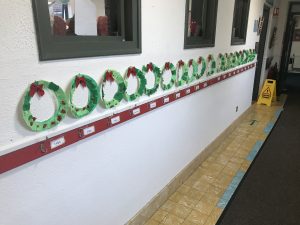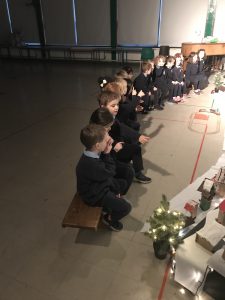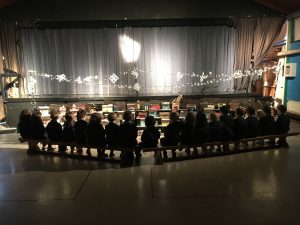 In S.P.H.E., we learned about our senses and our families. In P.E., we had lots of fun doing Ball Skills with Coach Steve from Shankill GAA and we started doing dance with our teacher. We started learning a dance routine to 'I just can't wait to be King!' from 'The Lion King'.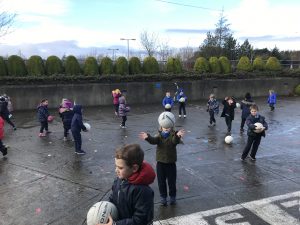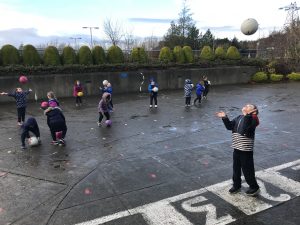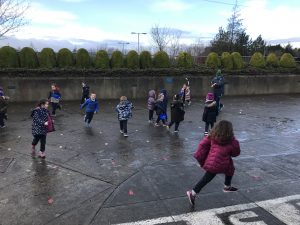 As if all of that wasn't enough, we also performed our Christmas play – 'Our First Nativity' which we had been working so hard on for several weeks. We recorded it for our parents so that we could sit and watch it together. It was a roaring success! Afterwards, we had a lovely party to celebrate!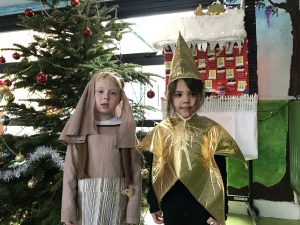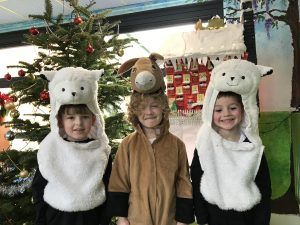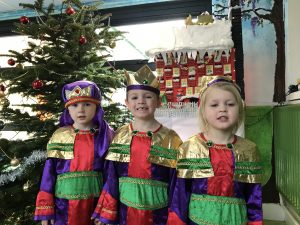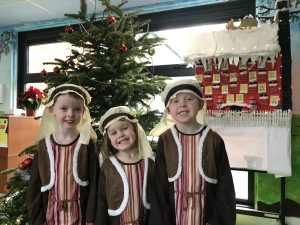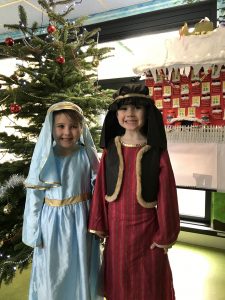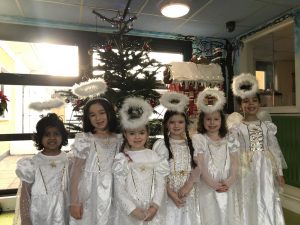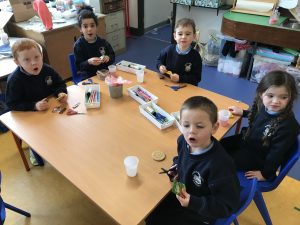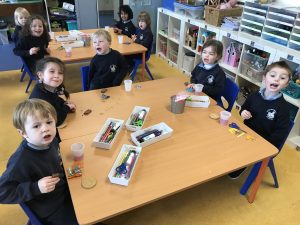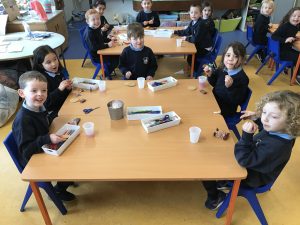 Thanks for reading our blog, we hope you enjoyed it. Hopefully by the time you read our next blog, we'll be back together in school again!