Hi, my name is Eoin and I am in Ms. Elmes' class.
In school, we are learning about lots of new things. We are learning about the bones, the organs, how they work and where they are.
We are also learning lots of Irish games and English. Ms Elmes likes to make learning fun by playing maths games.
We also have great fun in Art class. This term we have already painted self-portraits, autumn trees and lighthouse by sea. Ms. Elmes also taught "marbling" which was great fun as we used water and paint. Our first project was on My Family. Everyone can see our projects and read them outside of our classroom.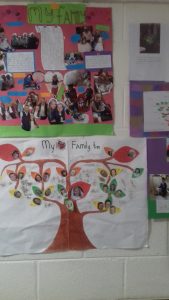 Family Trees from Third Class
By Eoin, Media Team