Welcome back to Ms. Olson's Junior Infants Class blog! We were so busy in October and had such fun exploring our themes – Space and Halloween!
In Aistear, we loved launching our rocket into Space in the home corner. The mission control manager would countdown from 10 and we would all shout 'BLAST OFF' as our rocket hurtled into Space. We loved shaking the rocket and banging the tin foil to replicate a noisy rocket! Once we had landed on the moon, it was time for the astronauts to put on their space suits, helmets and jetpacks and see what they could find! We also enjoyed creating a space scene on a big piece of paper and using the small world people to explore it! We were very creative when it came to the playdough station – we made aliens and rockets and finally in construction we made rockets out of Lego and Duplo.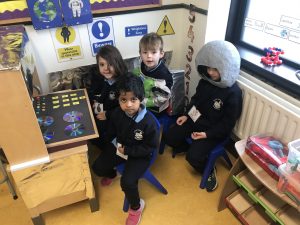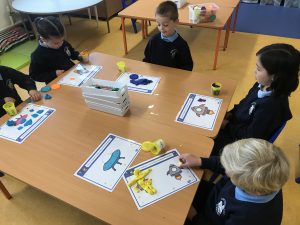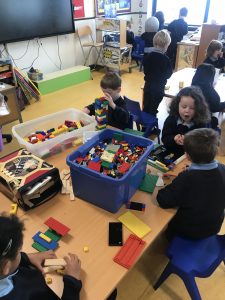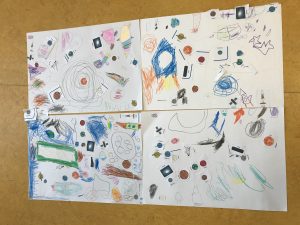 In the last two weeks of October, we had so much fun in the Halloween Fancy Dress Shop. The shop assistants had to answer the phones and help the customers find a good costume. The customers tried on the costumes in the fitting room and paid for them at the till. Sometimes they had to return their costume so they had to make sure they kept the receipt! We enjoyed playing small world too as we set up all the houses in the town and played trick or treating! We did some nice cut and stick activities too including sequencing 'The Life Cycle of a Pumpkin'.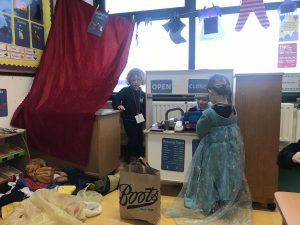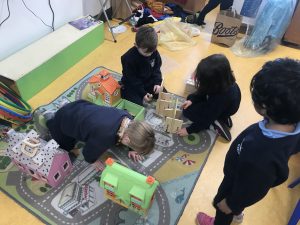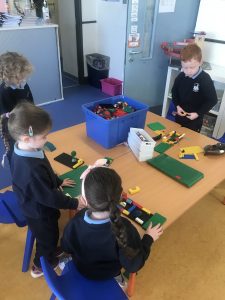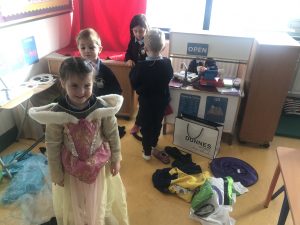 In English, we continued to learn our Jolly Phonics and we started to learn some tricky words! We love playing different phonics games each day like Bingo and matching. We are getting very good at blending little words too and we use our 'tap and stroke' method to do this. We tap out the sounds on our hand and stroke them together to blend! We are continuing to practise our fine motor skills each day and we are enjoying learning how to write the letters with our sand, whiteboard, counters and rainbow letters stations. We are also getting very proficient at writing our names! This month we read and explored the stories – 'Whatever Next!' by Jill Murphy, 'Aliens Love Underpants' by Claire Freedman, 'Winnie the Witch' by Valerie Thomas and 'Room on the Broom' by Julia Donaldson.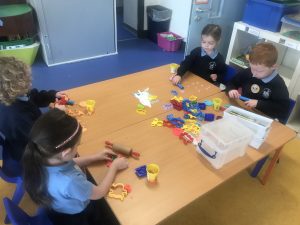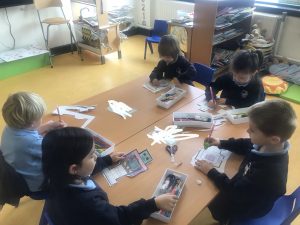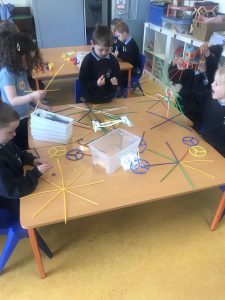 In Gaeilge, we explored the themes 'An Scoil' (School) and 'Oíche Shamhna' (Halloween). We love singing the songs, listening to the stories and conversations and playing the games on our interactive programme – Bua na Cainte.
In Maths, we have been doing lots of work on our counting and practising the concept before and after. This month, we were learning how to compare sets of objects and identify which sets had more / fewer or the same number of objects. We also continued to develop our one-to-one correspondence by matching numbers to the correct set of objects and enjoyed playing animal hunt and snail trail to practise this skill. We learnt a new pattern – ABC and had fun making those. We continued to practise our number formation and we also learnt about the 3D shapes – cube, cuboid, sphere, cone and cylinder. We went on shape hunts around the school, did feely bag games with the shapes, constructed 3D shapes out of marshmallows and cocktail sticks and had fun programming our little robot, BeeBot, to go to our selected 3D shape.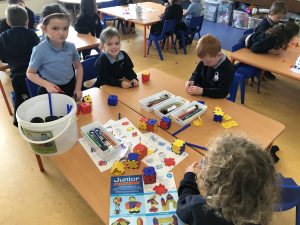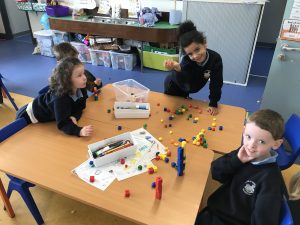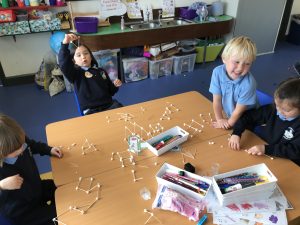 In S.E.S.E, we learnt about our solar system and the names of all of the planets. We explored the life of Neil Armstrong and watched cool videos of the moon landing in 1969 as well as current videos of life in space as an astronaut. We did some rocket experiments too – we used a balloon, a straw, some sellotape and a piece of string to explore how the force of air can propel the rocket along the string and we used a fizzy vitamin tablet to create a film canister rocket. You can watch the videos of our experiments on our Twitter page – @MsOlsonsClass. In the second part of the month, we learnt about the story of Halloween and its traditions. We enjoyed learning about the signs of Autumn and we went on a nature walk in search of these signs. We also learnt about pumpkins and the life cycle of a pumpkin. We even had a pumpkin in our class – it had a minion carved into it!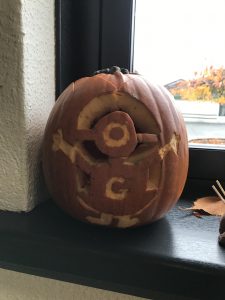 We did lots of Art this month. We made alien spaceships, rocket ships, Autumn trees, leave prints, clay hedgehogs, silly pumpkins, wicked witches and hanging bats! Take a look at all of our lovely artwork!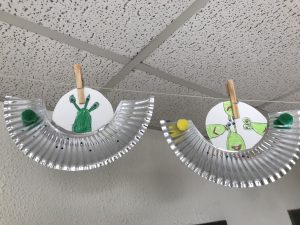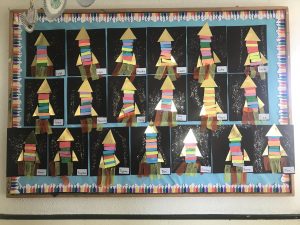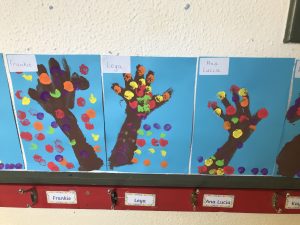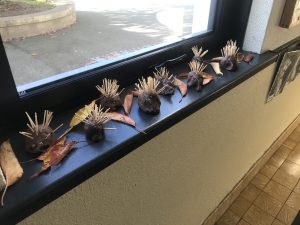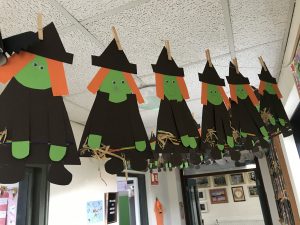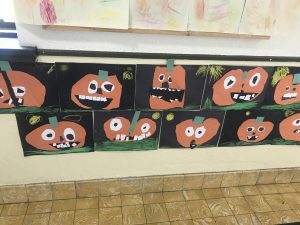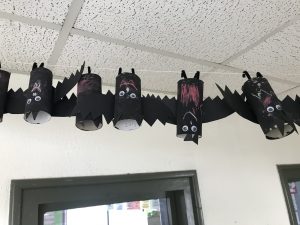 In Music, we enjoyed learning nursery rhymes and songs. We particularly liked 'Zoom Zoom Zoom – We're Going to the Moon' on YouTube. We also learned plenty of spooky Halloween songs about witches! In P.E., we've been working hard at our ball skills and playing playground games both with our teacher and Coach Steve from Shankill GAA. In S.P.H.E, we've been learning all about growing and changing. We looked at how we started off as a baby and how we have already grown so much!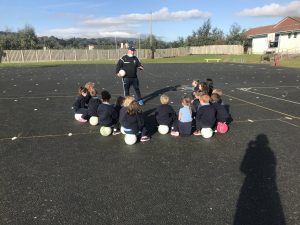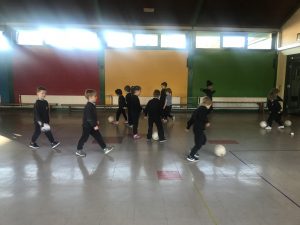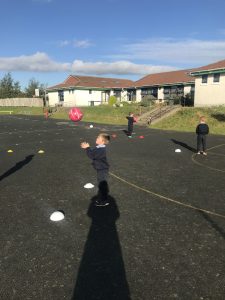 On our last day before the midterm break, we had a brilliant day as we knew this Halloween would be a bit different to others! We started our day with a little Halloween sing-a-long. After playtime and ball skills, we had a 'Room on the Broom' themed treasure hunt and we located the treasure chest full of treats in Mr. Fingleton's office! Then we went trick or treating around the other Junior Infants classes and Maria's office! Finally we made some Halloween green slime and watched the film, 'Room on the Broom' and ate some of our treats. What a month in Junior Infants, we hope you enjoyed reading our blog!