March was unfortunately a short month for us in Junior Infants as our school was closed for the second half of the month, due to Covid-19, however, we had lots of fun and did lots of work in the first two weeks!
In Aistear we were learning about 'The Vet'. We had lots of fun playing in the veterinary surgery – we had to pretend to be receptionists, vets, veterinary nurses and we brought our pets to the vets. We used teddies as pets or sometimes we liked to pretend to be the animals ourselves! We also played 'The Vet' using small world toys. We practised our cutting and sticking skills too as we learned about the life cycle of a frog. We watched a cool video about it first and then cut out pictures of the life cycle and stuck them in the right order.
In English, we continued to practise our Jolly Phonics, tricky words and silly sentences. We read the story, 'Farmer Duck' by Martin Waddell. We really liked this story because it was quite funny. It was about a lazy farmer who makes the duck do all the work. We also did lots of writing in March, we are getting really good at writing our news. We use a 'Who?' and a 'What?' template to help us. March was a special month because we had book week. Each day we had a fun activity to celebrate it. We were very lucky to have a storyteller come in to visit us. She told us a story about a snail and another story about a little girl called Lucy who went to visit her Granny. Another day, Mr. Fingleton, our principal, came to read us a story. He read us the story, 'Stuck' by Oliver Jeffers. It was so funny and we had to try and remember all the things that the little boy got stuck up in the tree! One day, we brought in our favourite books to show the class and third class came down to read them to us! We also had a drawing competition where we had to draw our favourite character from a story and there was an Easter egg as a prize! The best day of the week was Friday, as we dressed up as our favourite book characters and again there were Easter eggs as prizes for the best costumes!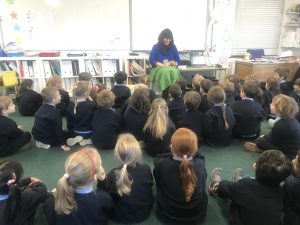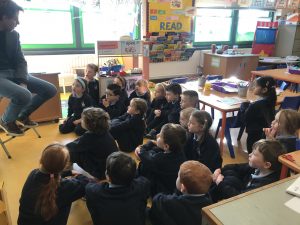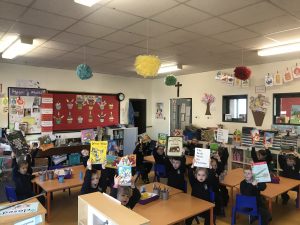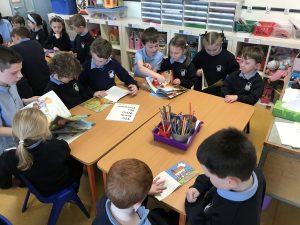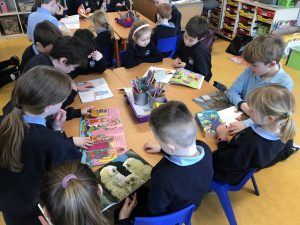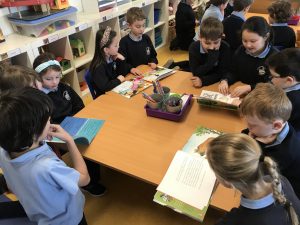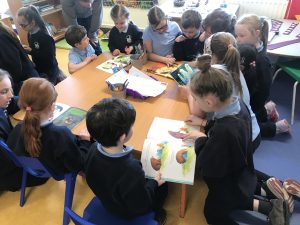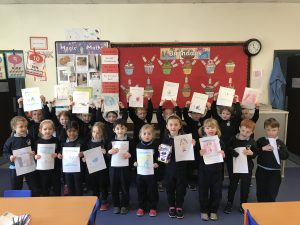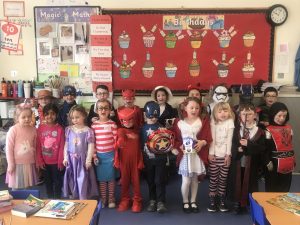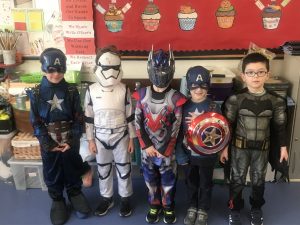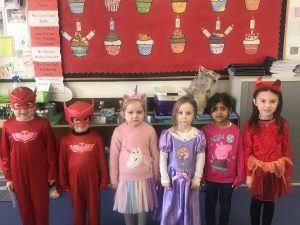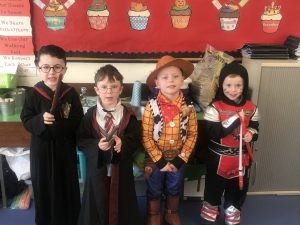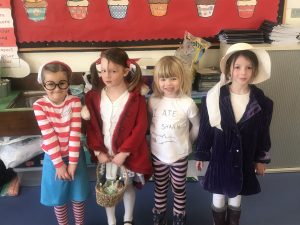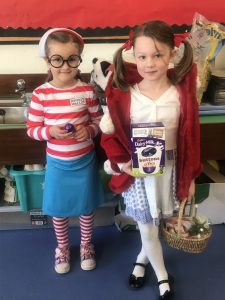 In Gaeilge, we were learning all about 'An Aimsir' (The Weather) and 'Lá 'le Pádraig' (St. Patrick's Day). It was Seachtain na Gaeilge (Irish Week) and we had such as treat as Aimee from the Bergin Academy of Irish Dancing came in to teach us some Irish dancing! It was a lot of fun! We were also practising songs for the St. Patrick's concert that was planned for the Friday before St. Patrick's Day but unfortunately it didn't go ahead as we were closed. We were learning the songs 'An Leipreachán' (The Leprechaun),'Tá Mé i mo Shuigh ar mo Chathaoir' (I am sitting on my chair) and 'Lá 'le Pádraig' (St. Patrick's Day).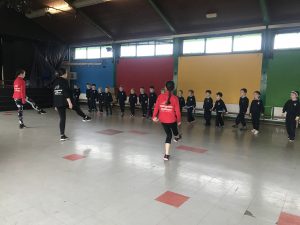 In Maths we continued on with our partitioning and combining within 5 and 4 and we really enjoyed playing games where we had to add on one. In Art, we made lovely St. Patrick's Day headbands. We used a cork to print shamrocks on to the band and we attached a rainbow with a pot of gold on to the top. We added shiny green shamrocks on to them too. We also made lovely Mother's Day cards – they had a Mother's Day poem written inside a flower pot on them and we used our handprints to create the flowers. We were also very lucky as the Sam Maguire Cup came to visit the school and we got to take a photo with it, have a look!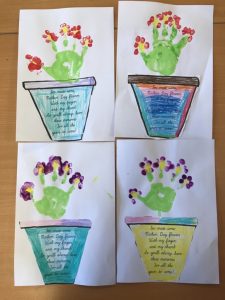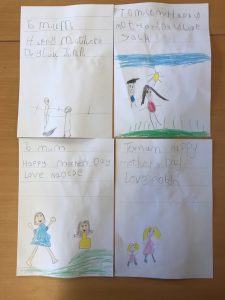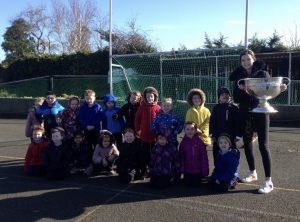 Covid-19 might have stopped us from going to school but it hasn't stopped us from learning! We have now moved to using distance learning and are using the app, Seesaw, to do this! Stay tuned to see what we get up to next month and fingers crossed we'll be back in school soon. Thanks for reading, stay home and stay safe!