Greetings everyone and welcome back to St Anne's News. It's Ava and Teagan and we have another great interview for you this month (God we love this job!) Today we had the pleasure of interviewing Mr. Justin Kilcullen who as most of you will know is the Chairperson of the Board of Management here at St Anne's.
Mr Kilcullen lived in Mount Merrion, Dublin, as a child where he attended St Theresa's Primary School and went to secondary school in Oatlands which is an all-boys school in Stillorgan. From there he went to UCD. He currently lives in Shankill and has three grown-up children. He is delighted to be the Chairperson of the Board because his children attended this school and he has had a connection with this school for a long time. Being Chairperson in a way is like saying thank you to the school. He has been on the Board for two years now and Chairperson for one year. He retired from Trocaire a few years back where he worked for thirty-two years – twenty years of this was spent as Director.
He is very busy as Chairperson of the Board. As well as working with Mr Fingleton he enjoys visiting us in our classrooms and the school yards. He loves coming into the school because everyone always seems so happy here. Mr Kilcullen is a grandad to two children that he loves dearly and he also loves children. We asked him why he thought he was selected for this very important job and he believes it's because he was available due to the fact he  is retired and he is very reliable. He is very impressed with the great atmosphere in the school. He also admires the dedication and commitment of staff as they care for and teach all the children.
He did say that everything that is good can still be improved on and he believes in years to come this school will be even more amazing! He described the role of being Chairperson in one word as "enjoyable".
Until next time people, keep your coats on, Santa hats too because it's NEARLY CHRISTMAS! Bye for now folks.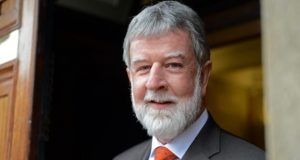 By Ava and Teagan