Our theme for December was Christmas of course and we were delighted to be joined by our Elf on the Shelf – Snowflake and we loved opening our Advent calendar each day!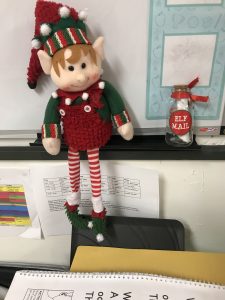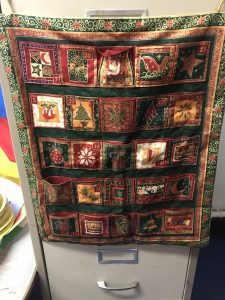 In Aistear, we absolutely loved playing in the home corner as it was the Post Office and Santa's Workshop! First we had to write our Santa letters and post them in our very own post box! Then Santa himself read the letters and told the elves what they had to make in the workshop. The toys went through some serious quality control too before they were wrapped and put into Santa's sack to be delivered to all the children. The Head Elf even had her clipboard out at one stage and sent some toys back as she wasn't happy with the wrapping!! We also enjoyed playing small world as Santa had to deliver all the presents to the children with help from the reindeer on his sleigh. Those elves were getting quite hungry from all their hard work too so we made some playdough cookies for them to munch on in another Aistear station. Towards the end of December we actually made real chocolate chip cookies for Santa, however, we thought they might get a bit stale before he came so we had to eat them ourselves. Oops!! Finally we made 2D and 3D shapes out of marshmallows and cocktail sticks.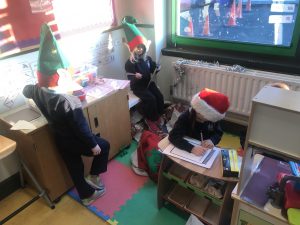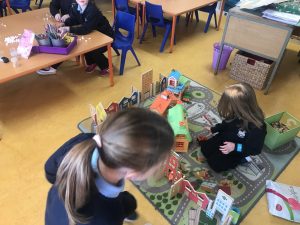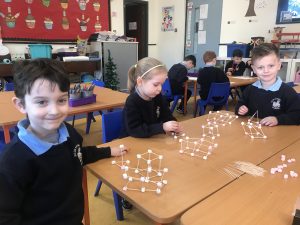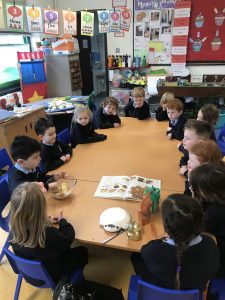 In English we continued to learn our phonics and practise our letter formation. We are also beginning to read short words using our tap and stroke blending method. Soon we will be ready to start reading short books! We enjoyed engaging with the stories 'One Snowy Night' by Nick Buttersworth and 'Bear Snores On' by Karma Wilson. We also wrote our own Santa letters as our handwriting is improving so much! In Gaeilge we were of course learning about 'An Nollaig' (Christmas). We especially loved singing the song 'Tá Daidí na Nollaig ag Teacht Anois'. In Maths we continued to learn all about number – doing counting games, number games and writing our numerals, however, we also started learning about time. We loved learning 'The Days of the Week Song' and recording the time it took us to do an activity by counting the number of claps it took!
In S.E.S.E, we learnt about the signs of Winter. As it was Christmas we explored the theme of toys. We spoke about play spaces and keeping them clean and tidy, we discussed our favourite toys and we learnt about the differences between toys now and toys from the past. We sequenced the story of Christmas and spoke about Christmas traditions and we also explored and experimented with our five senses. We tasted different foods, we smelled different items, we played the feely bag game, we investigated sound with a tin and a rubber band and we played games to realise how important our eyes are and how we need to look after them. As a final little activity we made fake snow using the non-toxic substance from nappies – poly sodium acrylate.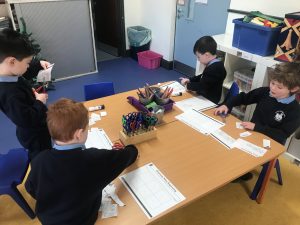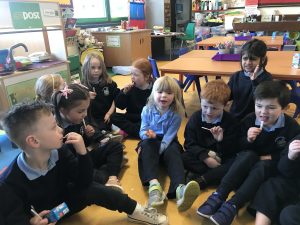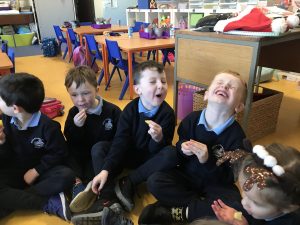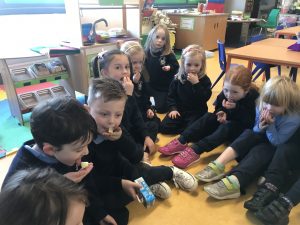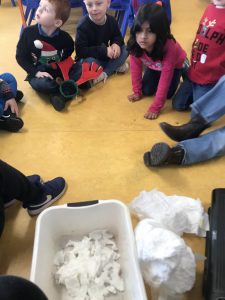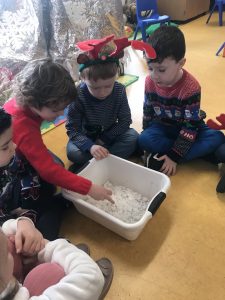 We were very busy making Christmas in December. We made elves, Christmas wreaths, Christmas tree decorations, stain glass effect Nativity scenes, winter robins, angels and Christmas cards. Take a look!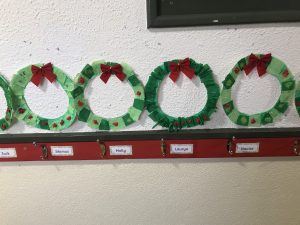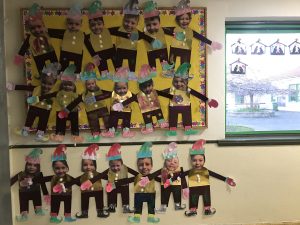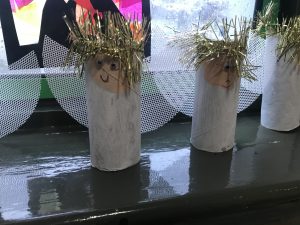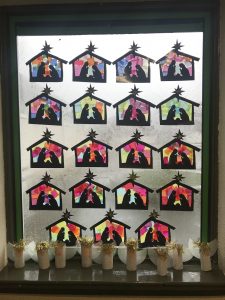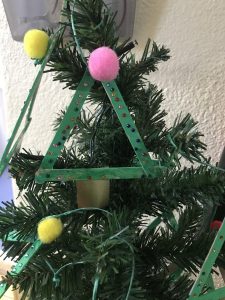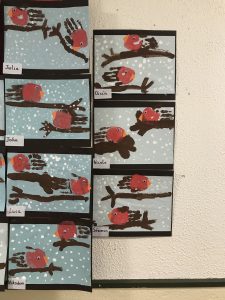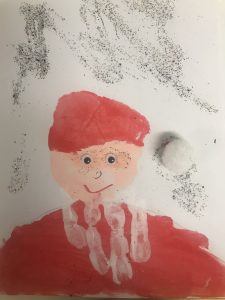 In Music we sang some lovely songs including 'Jog along Little Donkey'; 'Féach ar an Mainséar' and 'Santa Claus is coming to Town'. We also listening to some pieces of music and responded to them through discussion and movement. We loved doing Dance with Ms. Casey in December – some of our dances can be found on our twitter feed @MsOlsonsClass and we got to perform on stage at assembly in front of Junior Infants, Senior Infants and First Class! We said a poem – 'A Chubby Little Snowman' and sang the songs 'When Santa Got Stuck up the Chimney'; 'Rudolph the Red Nosed Reindeer' and 'Jingle Bells / Bualadh Bos'. It was a lot of fun! Finally, probably the biggest thing that happened in December was we performed our Nativity play – Our First Nativity, for our parents. It was a roaring success and everyone was so proud of us because we had been practising so hard since midterm to put on a great show! We can't believe that we are now in our second term of Junior Infants already but stay tuned as there is so much more to come in 2020!