Autumn leaves           
Deep in the woods under the trees, 
if you look straight up you'll see colourful leaves,
some leaves are yellow some leaves are green,
some leaves are bright and bold, some can't be seen.
Some leaves are strong others are fragile
squirrels leap through the trees looking so agile,
hedgehogs on the ground spiky and small
look up at the trees so giant and tall,
Deep in the woods under the trees, 
if you look straight up you'll see colourful leaves.
By Alice Byrne
Reading with the juniors.
At St Annes we love to read, we also like helping others to read, especially the new Senior and Junior Infants! After a long wait, 6th class finally gets their turn to read to the younger members of the school. Helping them to expand their reading skills is an amazing experience that I and many other 6th classers are very grateful for. Reading with them is a giant responsibility, we must be calm and quiet while we read with the kids and we must be gentle and encouraging.
It is a great benefit for the Seniors and Juniors to have, I remember when I was their age and 6th class came to my classroom to read with me and my class and now it feels so great to finally be reading with them. Just hanging out with the 6th class in school is so special, it makes them feel cool and grown up too.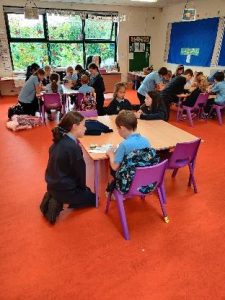 Library back up and running and our outdoor classroom.
In St Annes the Senior and Juniors aren't the only ones reading. Our library has finally reopened after covid 19 and we are excited to be back. Our librarians Evelyn and Tanya are working hard to keep our library in tip top shape. Each class has their own time slot for when they go to the library to take out and return books. As well as our library reopening our outdoor classroom has opened up too! Having the outdoor classroom is a great opportunity to get more time in the great outdoors while learning. The classroom is a peaceful and fun experience with a lot to offer on the educational and outdoor front.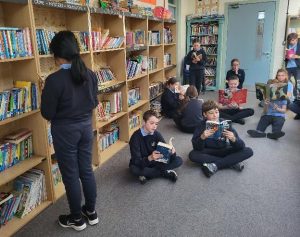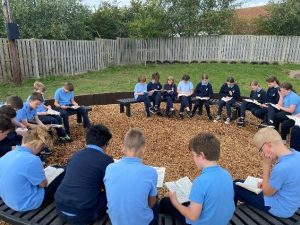 Trip to lexicon library 
6th class visited Lexicon library in Dún Laoghaire for a science workshop. The theme was "Bright Sparks-the hair-raising story of Electricity". In this workshop we learned about how electricity was discovered by accident and we repeated this very first electricity experiment. We then made our own batteries using readily available items. We also looked behind the scenes of batteries and investigated what batteries are actually made of. In the Library we used copper coins, gold coins, tinfoil, paper clips and zinc nails and measured them with a voltage measurer. The batteries were not any higher than 0.85 volts altogether so everything was safe but also very exciting. The children really enjoyed this experience and we hope to go on exciting trips and workshops again.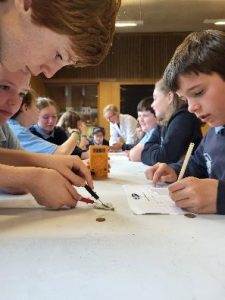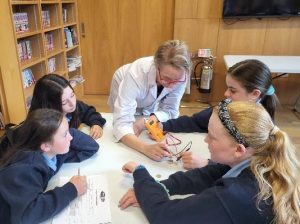 Assembly is back!
Our school assemblies are back in action after a long covid-19 restriction break. Ms. Treacy's 5th class started senior assembly off and sang 'lig mé saor' (wake me up by Avicii)- a great start to our first assembly back. It's great that covid is a thing of the past so we can continue to get back to normal.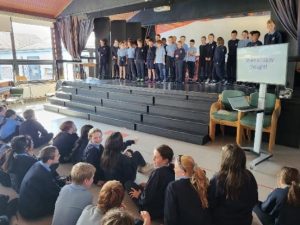 GAA September
The St Annes GAA teams have started up for the new 2022/2023 season! Mr Allen will be running both the boys and girls GAA football teams. People from 4th class and up can play for the team. Both the boys and girls teams have already played a match each with the girls team winning 26-1 and the boys sadly losing by 1 goal. The hurling for both teams will be starting up soon and soccer starting up in early 2023. Hopefully both teams win this year, and good luck!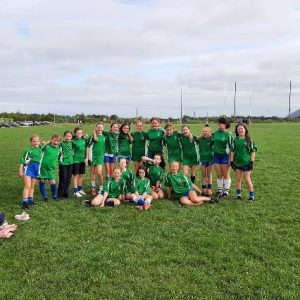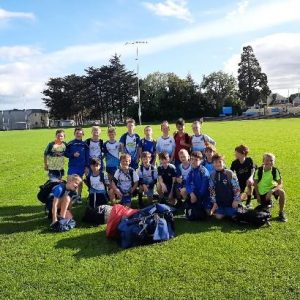 A big welcome to our new teachers at St Annes
As well as welcoming the Juniors, we're welcoming four new teachers, Ms Johnson, Mr Higgins, Ms O'Crowley and Ms Mc Creedy. By trying to get to know our teachers a bit more we thought it would be good if we interviewed them and got to know them. We thoroughly enjoyed interviewing them and found it very interesting and fun.