Throwback to Our Trip to the Irish Heritage Park!
Our class and the other 3rd class went on a tour to the Irish Heritage Park, Wexford. We learned lots about the history of Ireland. We were brought back to the middle Stone Age, when the first people came to Ireland. Then we made our way up to the Bronze Age, the Iron Age, Early Christian Ireland and then the Vikings! We had learned lots about Early Christian Ireland and the Vikings in class.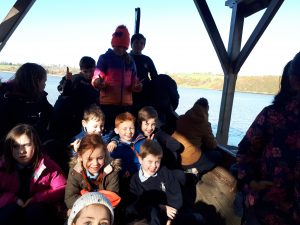 On the tour we learned that they made homemade cement out of not very pleasant things and that the people hunted animals for food and wolves and bears for their skin. We saw houses from the middle Stone age, Iron age and the Viking era. All of these homes were quite similar in that the roofs were made of mud and straw and the walls of wattle and sticks. There were only one or two rooms inside where lots of people and the animals lived. The Viking houses had a hole in the roof for the smoke from the fire. There were fires lighting outside all of the houses and there was a strong smell from them. The people did not live very long lives in those days.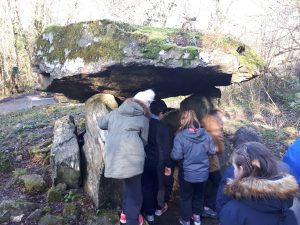 Our tour guide was called Corinne and she was dressed like a lady from Viking times. She showed us things like brooches, landmarks, ancient burial sites, a crannóg and much more. We also went on a longship but it didn't go in the water for safety reasons. The tour was all outdoors. We went around different parts and there was a little house with a monk inside it! We had lots of fun and saw lots of things. I would go back again.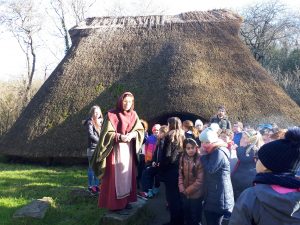 By Teagan, Media Team