Sixth Class Confirmation
On the 14th of April, the two 6th classes (Ms. Kett's and Ms. Aivalikli's) officially made their Confirmation.
A few weeks prior, they had the Service of Light, in which their parents handed their baptismal candle to them, passing on the light of guidance in the next step of Christianity.
Then they had rehearsals for the big day. They had confession and lots of preparation. Many people had prayers and readings to prepare.
On the day, they all wore robes/albs, which the teachers put pins on, saying their Confirmation names. That morning everyone was bubbling with excitement. The ceremony in St. Anne's Church was beautiful. The 5th class sang many lovely songs too. Bernie and others from the parish did a great job helping them prepare for the occasion. St. Anne's church was filled with artwork from the 6th classes.
The parents, teachers and children were beautifully dressed in shirts and dresses. We would like to thank our priests: Monsignor Enda Lloyd, Father Jamie and Father John. We would also like to thank our photographer John Coveney. At the end of the ceremony we got class photos. We all then went back to the school for a party. We all had great fun.
After the school party many of the children went to a hotel with friends and family for a meal.
We would like to thank our teachers and principal, all the people working with the church and our parents and friends for a lovely day, thank you very much.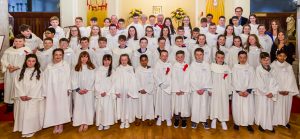 Written by Eoin and Kate, Media Team