Mischief Managed in Ms. Kett's Class!
We have gone Harry Potter mad in Ms. Kett's 6th class and we're currently starting the 2nd book in the  series. Although some of us have read them before, lots of us haven't and we're all thoroughly enjoying reading and disecting them. We are using the novel to inspire our art, teach us about story and character development and of course how to improve our own writing by using rich and descriptive language and a variety of adjectives and adverbs, a speciality of J.K. Rowlings.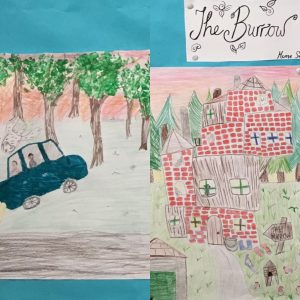 As 6th class is our last year in primary school we began the year by writing a letter to our teacher with some requests and hopes for the year ahead. We are very excited about confirmation preparation and of course getting ready for the big move to secondary school. With this in mind we've been having lots of conversations around SPHE topics such as – friendships, looking after ourselves and making good choices. We've also been discussing healthy eating and good habits and began our studies of the human body by looking at the heart and lungs. The brain is next – we can't wait. In history we are currently learning all about the Georgian Era and looking at architectural evidence round our great city. We are drawing and constructing Georgian building and doors and are becoming increasingly impressed by the magnificient buildings from the past. We are going on our first tour next week to Henrietta Street museum and the Hugh Lane Gallery. We are excited and looking forward to many more educational (and fun) tours throughout the year.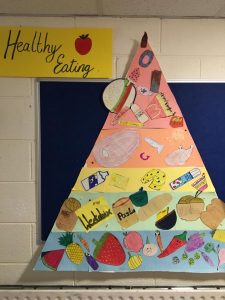 This month we also produced a 'Passion Project'. We researched and prepared these at home and presented them to the class on completion. The variety and standard of the projects was excellent and it was facinating to learn about each others passions in such detail. We learned a lot from each other; some baked brownies and cookies (very popular indeed) and explained the process, others chose football as their passion (surprise, surprise), other projects included the World of Disney, Harry Potter, Horses, Hockey, Parties and even The Immune System, to name but a few. They were all fantastic and very informative. We are looking forward to doing many more projects throughout the year ahead.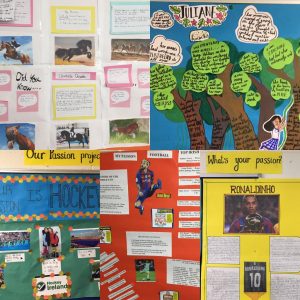 We've also been keeping our eyes peeled for signs of Autumn and in particular the amazing changing colours in our environment. We've learned about photosynthesis and the Season   s at a global level. The wonderful autumnal colours have inspired more art.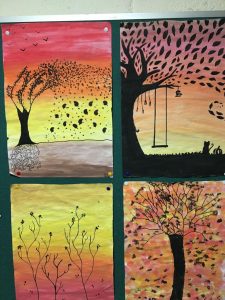 Overall we've had a great start to the year and are looking forward to Halloween and the mid-term break now but also learning much more as the year unfolds. Slán.