History and Narrative Writing in Ms. Aivalikli's Class
I visited Ms. Aivalikli's sixth class today. They have been learning about Georgian Dublin this month. They have focused on the architecture and history of the time. Students have been doing PowerPoint Presentations and Reports on either the Four Courts, James Gandon or Georgian Homes. They are going into Collin's Barracks to look at Georgian furniture and clothing and will be sketching the Four Courts.
In English they have been working on Narrative writing, creating tension and using descriptive words. They will be writing their own stories soon.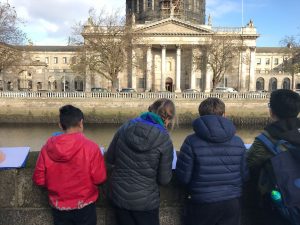 By James