May News from Ms. Olson's Class!
Our theme for the month of May was 'The Sea'. We had great fun during Aistear time as we had a pirate ship in the classroom! We had to sail our private ship and go on the hunt for treasure! We also made pirate ships out of Lego and engaged with lots of messy play in the form of water and sand play! Towards the end of the month we did some paper weaving and made woven fish. They turned out really well!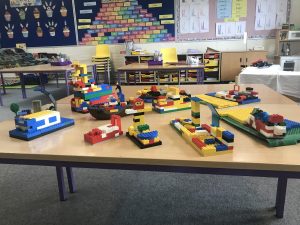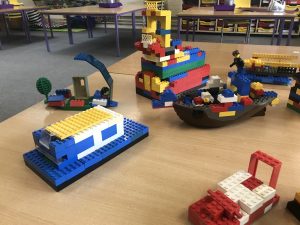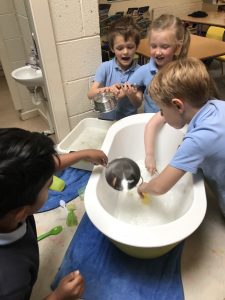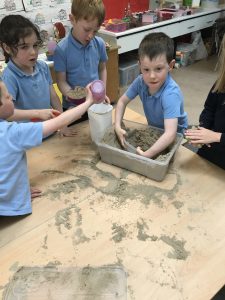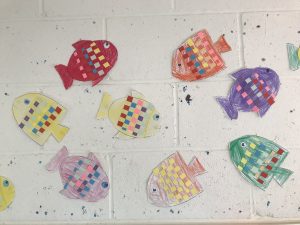 In English, we read the story, 'The Snail and the Whale' by Julia Donaldson. We focused on using our comprehension strategies including summarising and questioning. We also worked on our rhyming skills as Julia Donaldson's books are great for learning about rhyme. This really helped us when we came to write in our PAT rhyming word families book. We also read 'Winnie Under the Sea' by Valerie Thomas. We thought this story was really funny. We wrote a summary of the story in our copy books and Ms. Olson was so impressed with our handwriting and spelling!
In Maths, we had lots of fun learning about capacity. We played with sand, counters, cubes and water as we investigated the capacity of different objects. We read the story of 'Goldilocks and the Three Bears' and had to decide which bowls and cups to use for the three Bears by estimating and measuring which container held more / less. We even had a little popcorn party and had to decide which was the best container to use to share out the popcorn! We also started subtraction in May which is amazing because subtraction is really First Class work!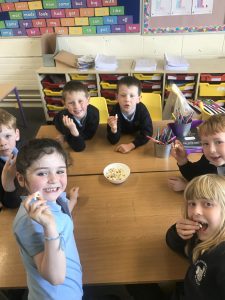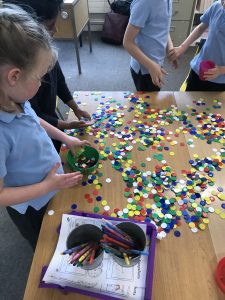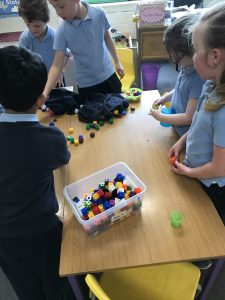 In Gaeilge, we learned lots of nice poems, songs and phrases surrounding the themes of 'An Teilifís' (Television) and 'Siopadóireacht' (Shopping). In S.E.S.E, we spoke about a trip to the seaside and wrote about a time that we went to the seaside and what we did there. We also learned about the Titanic. We were very lucky because two boys in our class brought in some fact books about the Titanic that we had a little read of. It was very interesting. We watched some underwater footage of the Titanic and were amazed that there are still some plates in the cabinets in one of the dining rooms!
It was Active Schools Week at the end of May and what a week it was! On Monday we had martial arts and circuit training. On Tuesday we had Sports Day. On Wednesday we had GAA and dance lessons and on Friday we got to go on four bouncey castles. It was such a fun week!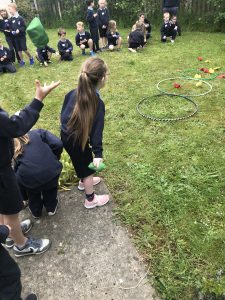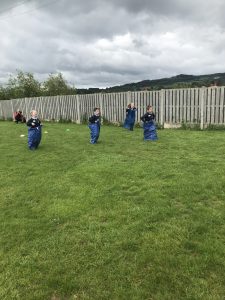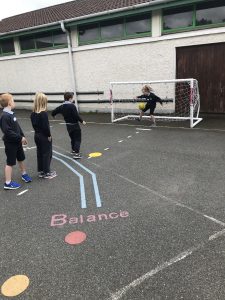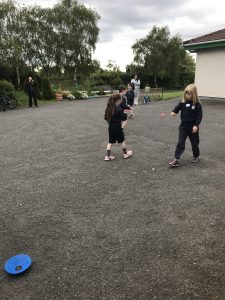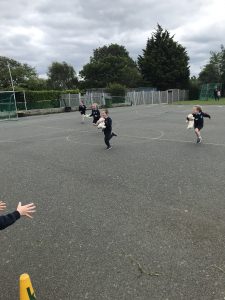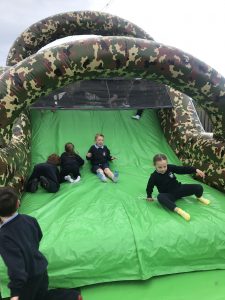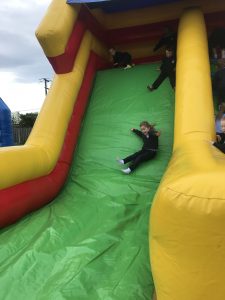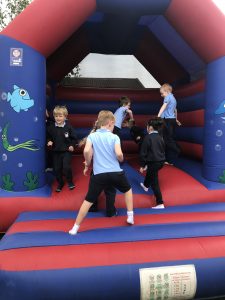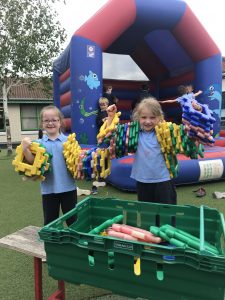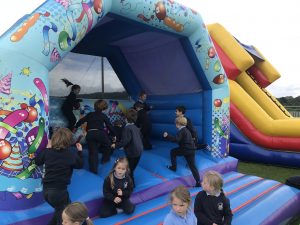 In Music, we learned some nice songs including 'Apusski Dusski' which is a song about a sardine, 'Jackie the Sailor' and 'Chuaigh mé go dtí an Trá'. We also listened to some songs from 'The Little Mermaid' and discussed the mood of the songs. We also got a visit from Music Generation which was very cool. They showed us some instruments including the Cello, the Violin and the Piccolo. They also played us a few pieces of music. It was very enjoyable. Finally in Art we made lots of cool pieces. We made newspaper shark collages, paper plate jellyfish and egg carton Titanics! Check them out! Thanks for reading our blog, we cannot believe we only have a couple of weeks left in school before the holidays and before we become big First Class!!