April News from Ms. Olson's Class!
Our theme for the month of April was 'The Weather'. We had great fun during Aistear time playing in the weather station. We had to pretend that we were on the television giving the weather forecast whilst the rest of the group watched us from the couch! It was lots of fun!
In English we kept a weather diary. Each day we wrote about the weather. Unsurprisingly it rained for most of the week! It is Ireland after all!! We also did some explanatory writing and learned about the water cycle! We continued on with our Literacy Lift Off programme too, we have all progressed so well in our reading since beginning this programme! As well as reading, we've been working on our rhyming words and word families, we like doing our PAT workbook where we write down all our rhyming words. We were also very lucky to have an author come in to speak to us about the book he had written in aid of Temple Street Hospital – The Return of the Dragon by Don Briggs and illustrated by Naomi Peppard. He read us the story and Naomi showed us how she drew and painted the pictures. We were able to buy a copy of the book and all the profits go to Temple Street Hospital. The book has already raised €3o,000!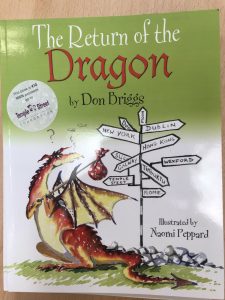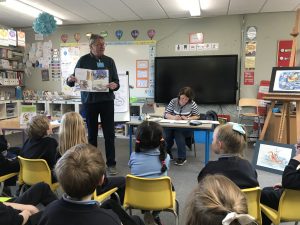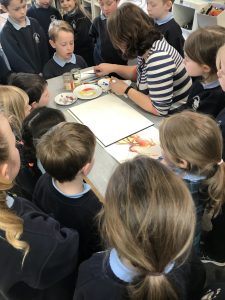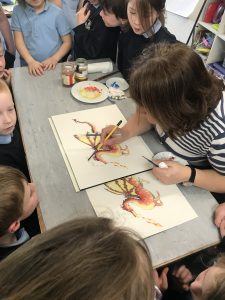 In Maths this month, we learnt about length. We did lots of activities including making worms out of play dough and comparing the lengths with other children in our class; sorting different objects according to length, length hunts in the classroom; measuring the length of the corridor, classroom, table and hall using the Easter Bunny's footprints; making different length pasta necklaces and measuring how far we could throw beanbags! We love Maths because we are always learning in an active way!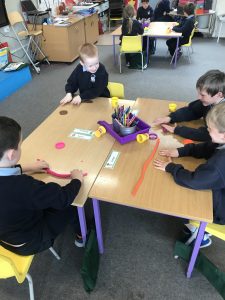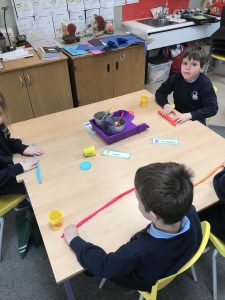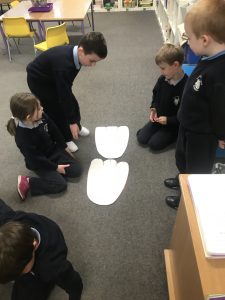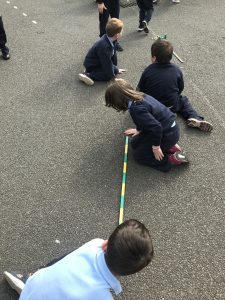 In Gaeilge we learnt songs and phrases related to 'An Aimsir' (The Weather) and 'An Cháisc' (Easter). In S.E.S.E we investigated static electricity by doing some cool experiments with balloons. We also explored the work of meteorologists, day and night, the different types of weather and the effect that the weather has on people e.g. on their clothes. We looked at colours and realised that there are many different colours some of which are light and some are dark. We loved investigating shadows. We drew around our shadows in the yard and then revisited them later to see whether they had moved. Unfortunately it took us a few days to do this as we had to wait for some sun!! We also did some weather experiments, we made the water cycle in a glass, raining clouds and we tested different materials and coats to see which were waterproof!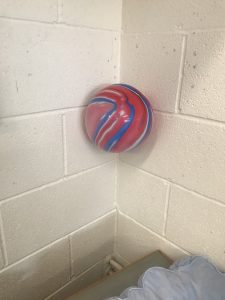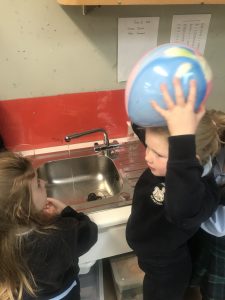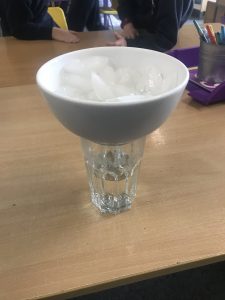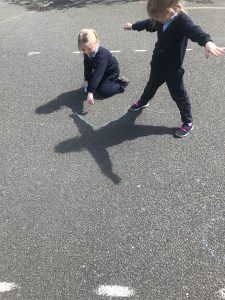 In Music we learnt some lovely songs including 'Marvellous Things'; 'Hokey Pokey' and 'Mo Ghairdín' and in Art we made hatching chick pictures, Easter cards using potato prints and rainbow mobiles. To reward our good behaviour we had a eggcellent easter egg hunt on our last day of term before our Easter holidays! It was so much fun!