A Winter Wonderland in Senior Infants!
Happy New Year from all of us here in Ms. Olson's Senior Infants. We can't believe it is 2019 and we are into our fifth month of school! Time flies when you're having fun!
In December we explored the theme of Christmas and Wintertime and we really enjoyed ourselves! In Aistear, we loved playing in the Post Office / Santa's workshop. We had to write letters to Santa, post them in the post box and wait for the elves to design, make and wrap our presents before Santa delivered them to us! At another station we baked chocolate chip cookies for Santa (although we may or may not have eaten them ourselves hehe…)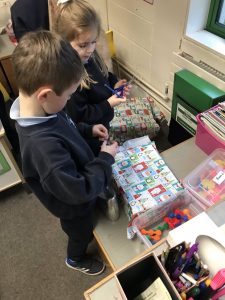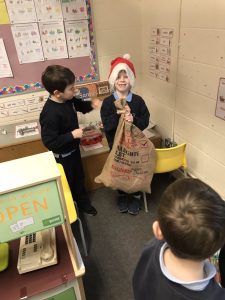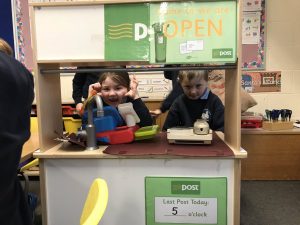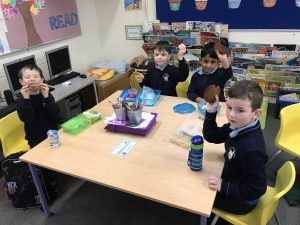 In Literacy, we read the stories 'Bear Snores On' by Karma Wilson and 'One Snowy Night' by Nick Buttersworth. Both stories were set in wintertime and the main characters were animals. We also spent some time learning how to write letters. We even drafted our own letters to Santa Claus before copying out the finished piece on to a lovely Santa letter template. Our handwriting was so neat that Ms. Olson displayed them on our classroom wall! In Gaeilge, we learned lots of phrases and new vocabulary surrounding the theme of 'An Nollaig'. We learnt the songs 'Bualadh Bos' and 'Seo í an Leanbh Íosa' which are versions of Jingle Bells and Away in a Manger. In Maths we learned about 3D shapes – cube, cuboid, sphere and cylinder. We liked going on shape walks, playing with our 3D Beebot shape mat and making 3D shapes out of marshmallows and cocktail sticks!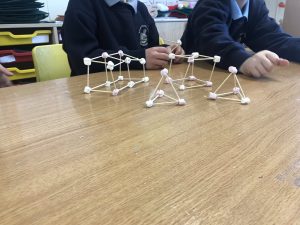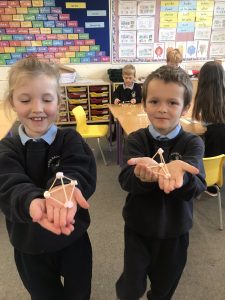 In S.E.S.E we learned about the different animals that hibernate and migrate in winter. We also sequenced the story of Christmas and we had great fun learning about materials – in groups we designed toys and we made them out of materials that we could find in the classroom. We then presented our toys to the rest of the class. We also made snow by adding water to polysodium acrylate (the stuff inside nappies!!) in Science!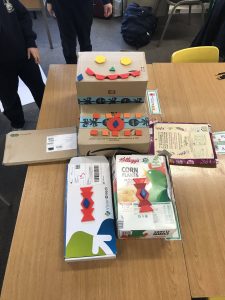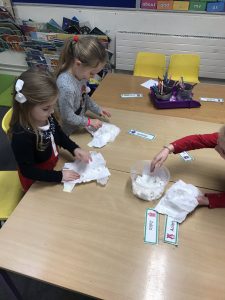 We made some lovely things in Art last month! We made Christmas elves using our faces, winter penguins, Christmas tree decorations, stain glass nativity scenes and nice Christmas cards for our families. We were very lucky to be able to perform some songs at assembly in Decemeber. We sang an extended version of Jingle Bells and Santa Shark. All the other children loved our performance and even sang along! We also performed our Christmas play 'What a Star!' for the school and our parents. We did a fantastic job and Ms. Olson and our parents were so proud of us! We really are superstars in Senior Infants!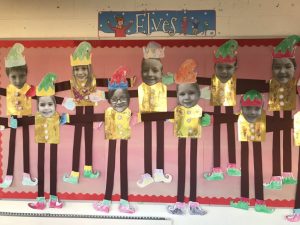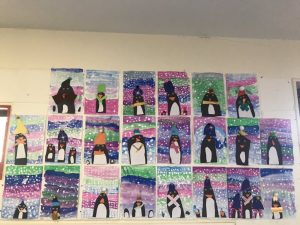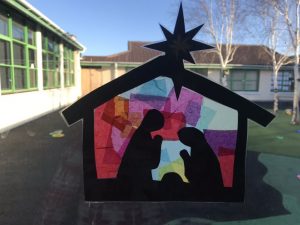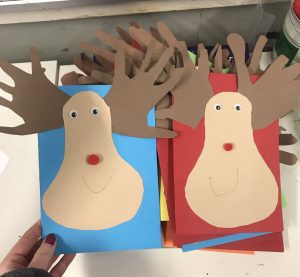 Thank you for taking the time to read our blog. We hope you liked it! Our next blog is sure to be an interesting read as we are currently learning about Egypt! Check it out next month – in the meantime keep track of what we are doing by following us on twitter – @MsOlsonsClass!