3…2…1…BLAST OFF!
During the month of October we learned all about Space! In English we read the story 'Whatever Next!' by Jill Murphy. In this story, Baby Bear finds a space rocket in the cupboard under the stairs. He finds a space helmet and space boots in the kitchen and then he zooms up the chimney and lands on the moon, all before bedtime! Whilst reading this story, we practised our comprehension skills of predicting, visualising, questioning and summarising, we learned new vocabulary, wrote a list of things that Baby Bear would need to bring with him to have a picnic and even dramatized Baby Bear zooming up the chimney in his box rocket!
In Maths, we continued to partition and combine for 6 but we also learned all about 2D shapes – squares, rectangles, triangles, circles, ovals and hexagons. We enjoyed going on 2D shape hunts around the school, playing guessing games with the shapes, drawing pictures using 2D shapes, playing with tangrams, using BeeBots to find 2D shapes and constructing 2D shapes out of cocktail sticks and marshmallows. In Gaeilge we learned lots of songs and phrases surrounding the theme of 'An Scoil' and of course 'Oíche Shamhna'.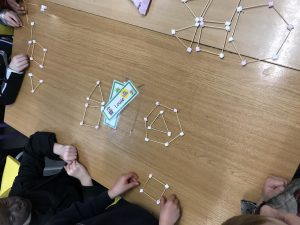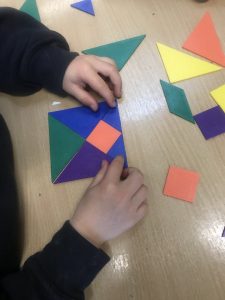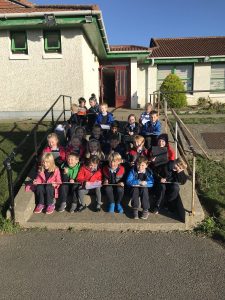 In History, we learned all about Neil Armstrong and created a timeline of his life. In Geography we learned all about our Solar System. We came up with a great mnemonic to remember the names and order of the planets – My Very Excited Mother Just Served Us Noodles – Mercury, Venus, Earth, Mars, Jupiter, Saturn, Uranus and Neptune. We even pretended to be the planets orbiting around the sun! In Science we learned all about rockets and how they blast off into space. We made our own balloon rockets and launched them along a string.
In Music we learned lots of songs for Halloween but we also had to prepare for our assembly performance. We learned a song that retold the story of 'Whatever Next!' that we had been learning in English. We performed it at assembly to all of Junior Infants, Senior Infants and First Class! We did a fantastic job! In Drama, we played some fun drama games and read the story 'The Way Back Home' by Oliver Jeffers. The little boy in the story crash lands on the moon and befriends a Martian. Together we had to come up with a solution to help the boy and the Martian find their way back home! This month, we are busy preparing for our Christmas play, we are very excited to perform it in front of all our families.
In Art, we made some fantastic space rockets made out of plastic bottles and papier mâché. We also made some puffy paint planets. We had great fun making the puffy paint out of shaving foam, PVA glue and paint! Finally to talk about our favourite time of the day… Aistear! We loved playing in our space centre role play corner this month. We had to do all our safety checks before counting down and blasting off into space. We then had to put on our space suits and walk around the moon! We hope you enjoyed reading our blog post. Check back in a month's time to find out what we have been up to in November and follow us on twitter @MsOlsonsClass to keep track in the mean time!