Autumn has Landed in Senior Infants!
For the past month, Ms Hegarty's class have been making new friends and have been playing with each other in the yard. Other than making friends, the class have been doing a lot of nature related activities. The class went on a nature walk and found a variety of nature objects such as leaves and acorns. With these they then made a nature table. One pupil found a large cone about three times the size of a normal cone.
In Art they did leaf rubbings using Autumnal colours. The class really enjoyed this a lot.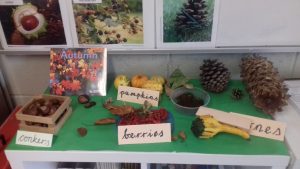 Ms. Hegarty's Nature Table
By Eoin, Media Team