News from Ms. Dawson's Second Class.
Welcome to Ms. Dawson's second class. We've had a very busy first half term. In the last two weeks we made telephones out of tin cans and string. We decorated them and tried them out and we were so surprised when we  could hear each other down the lines. They worked the best when we pulled the string very tight.
We had a project to design and make a kite and all kinds of shape and designs arrived in school last Friday just in time for the end of the hurricane. We had great fun flying them in the yard and trying to hold on to them. A few unfortunately needed surgery afterwards!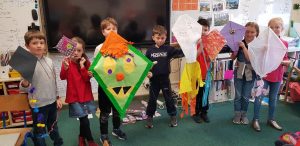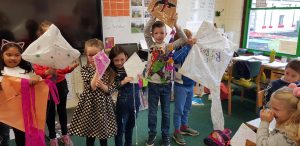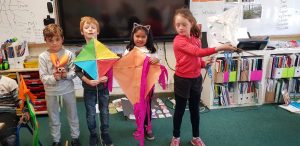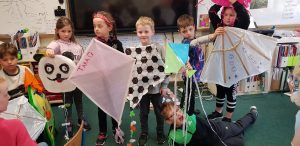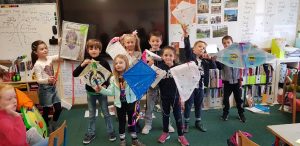 This week we are looking at Halloween traditions and games and interviewing our parents and grandparents about Halloween when they were young. We are also drawing maps of Halloween Villages. They are scary places to live in!!
We played conkers this week too, an old fashioned game where you try and hit and break your opponent's conker. It was harder than it looked!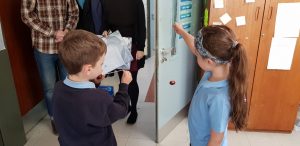 This week is Maths Week and we started our online maths programme, Mathletics. It is a lot of fun and we can even have maths challenges with children from around the world. We also went on a maths walk and looked for maths around our school. Shape jumped out at us everywhere!
If you'd like to enjoy a Disney cartoon from 1929, check out the skeleton dance on you tube. We danced and moved to it and are very impressed with technology from almost 100 years ago! It was a lot of fun!