December News Featured in the Scan Magazine!
Author's corner 
The tree journey 
All the tree wanted was a home. Not a fancy thing or anything but he was more so looking for a family that comes with a home. He was not picky, far from it. He was stuck in the outdoor area of the supermarket with all the other trees. He was not liked by them; the tree in question was not very tall which is why the other trees made fun of him. 
One day a bird came down and landed on the tree. They became great friends and the bird never left him. On the 7th of December there seemed to be a lot of families in the supermarket buying trees. A Lot of trees were sold but not our tree. All the other trees were making fun of him and saying that no family wanted a tree as small as him. His bird friend felt sorry for him and decided to fly into the store to find him a family. He spotted a boy. The boy noticed the bird too. He wanted to follow the bird and was tugging at his mom to follow the bird. She wouldn't, so the boy followed by himself. His mother followed in panic. The boy followed the bird all the way to the tree. He loved the tree instantly. He pleaded with his mom to get the tree and she agreed. Once they got home with the tree the mother and son noticed that the bird was still in the tree and they all spent that lovely Christmas together. 
By Megan Quinn 
Christmas plays 
Most classes are doing Christmas plays this year and we are happy to have parents back in the school to see these plays. The junior infants are doing a nativity play. They are all very excited. They all have wonderful costumes and have learned their lines. They are very excited about their first Christmas play. A highlight of their show for them is the Reindeer Hokey Pokey. Here are some pictures of Ms. Aivalikli's class 





By Haley 
Carol Singing for Shankill Day Care Center
An interview with Ms Maguire who was one of the teachers involved with the carol singing. By Sian 
How long have you been singing Christmas carols? 
This is our first opportunity to get a small choir together since the covid restrictions and we really enjoyed it. We only formed the group this month and they did great! 
Do you like singing at such events ? 
Yes, I love singing for the community and I think it is a great opportunity for the children to do something really positive in the community. 
What made you decide to do it? 
We were invited and we were delighted to do it! 
What made you like singing? 
I just loved singing myself as a child and I joined lots of choirs when I was young. I still sing in choirs now and love giving children the opportunity to sing. 
Do you play any instruments? 
Yes, I play piano and a little guitar. 
What songs do you like to sing? 
Definitely Christmas music like this carol service but also Irish music and pop. 
Did everyone enjoy the service? 
Yes I think they did. I think it can bring back a lot of memories to a lot of people about their own choir experiences and songs they may have learned along the way.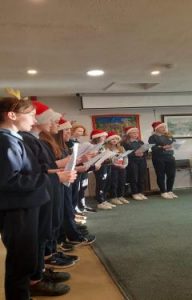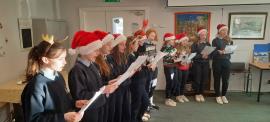 Christmas Art by Andre Price 
Mr Ryan's 5th class made christmas tree art. Each child got one tree and they had to tessellate it many times to make a big tree and then decorate it.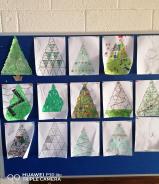 Ms Kelly's 6th class made shape art using cut up strips of paper to form another image. In this case a christmas tree.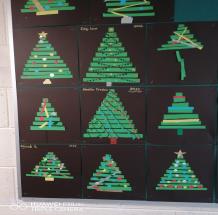 Ms D'Arcy's 4th class made a winter scene with paint. They firstly made a background with different shades of blue. They added a tree and some robins and then each child added their own touches to it.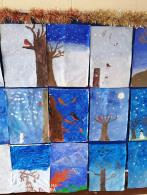 Mr Higgins 2nd class got very creative and made stamps out of folded straws and dabbed it in a circle to make a wreath. They added red paint for berries and felt red bows for added detail.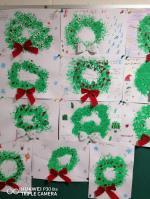 Ms Olson's junior infant class turned themselves into elves using colourful cards in different ways to make their bodys and printed pictures of their faces. They used a contrast of dark cards for detail and colorful background to make this unique nativity scene.