October News from Junior Infants – Better Late than Never!
October was another busy month for the Junior Bunnies! Our theme for the month was 'Clothes' and of course 'Halloween'.
In Aistear, we loved playing in the role play corner. For the first two weeks of October, we explored the story of 'The Scarecrows' Wedding' by Julia Donaldson. We acted out the story whilst wearing costumes and at the end we had a party in the farmyard to celebrate the wedding. For the last two weeks we LOVED playing in the Halloween Fancy Dress Shop. We pretended to be customers and shop assistants buying, selling and even trying on costumes! It was so much fun (I think our best role play corner yet!) During Aistear we also did activities such as small world; constructing farms with stickle bricks, Lego and Kapla; threading beads to make jewellery for Betty O'Barley from the story; playdough and cut and stick sequencing activities such as 'The Life Cycle of the Pumpkin'.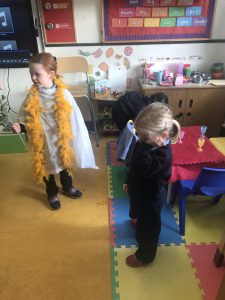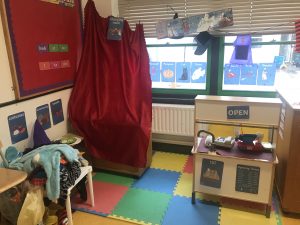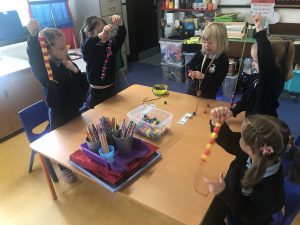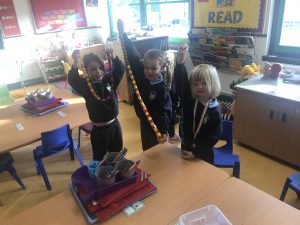 In English, we continued to learn our Jolly Phonics focusing on 'h, r, m, d, g, o'. As well as doing our phonics activities as mentioned in our previous blog post, we started learning how to blend simple CVC (consonant vowel consonant) words using our tap and stroke method. We tap out each sound as we say them on our hands and then we stroke them together to blend them. We enjoyed reading the stories 'The Smartest Giant in Town' and 'Room on the Broom' by Julia Donaldson as they have a particular focus on clothes and Halloween respectively. We also enjoyed reading stories about 'Winnie the Witch' by Valerie Thomas as we found Winnie and Wilbur's adventures very entertaining. We also began writing simple sentences in our copy books and accompanied them with a lovely picture.
In Gaeilge we explored the theme of Éadaí (clothes) and Oíche Shamhna (Halloween). We enjoyed learning songs, poems and simple phrases relating to these themes especially ones that involved 'an Púca agus an Cailleach' (the ghost and the witch). In Maths this month we continued to practise our counting games and writing our numerals. We have also been developing our understanding of one-to-one correspondence (the ability to match an object to its corresponding number) through playing maths games such as animal hunt and snail trail. We also learnt about 2D and 3D shapes through activities such as sorting, pattern boards, constructing shapes using peg boards, lollipop sticks and polydrons, feel the shape games, threading 3D shapes onto string, going on shape hunts and navigating BeeBot to different shapes. Finally we had a maths trail and ran a 'Have you got Maths Eyes?' competition in our class for Maths Week 2019 with some fabulous entries. It was very tricky to pick a winner!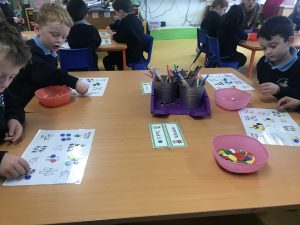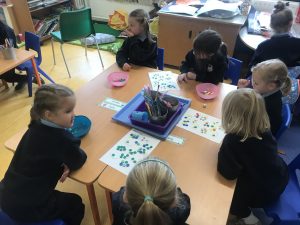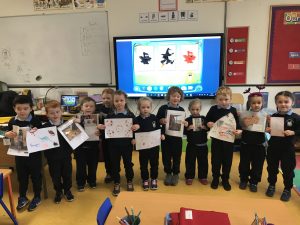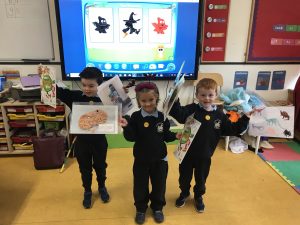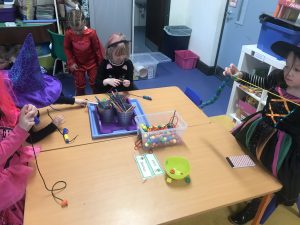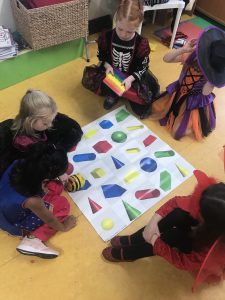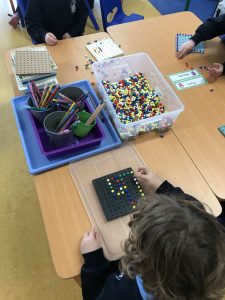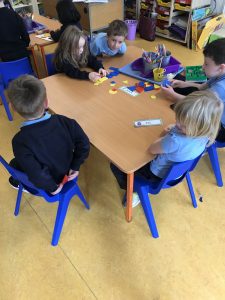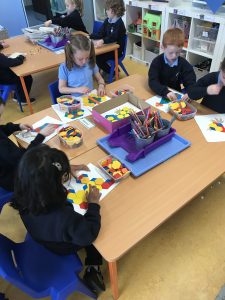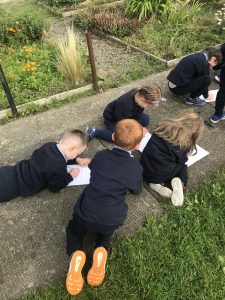 In S.E.S.E, we learned about autumn and went on a nature walk to search for signs of autumn such as fallen leaves; colour changes; seeds, nuts and berries and animals. We collected some items for our nature table. We also learned about hedgehogs and squirrels and spoke about hibernation and migration. We learned about the life cycle of a pumpkin and about Halloween – its origins and traditions. We also did some colourful leaf printing.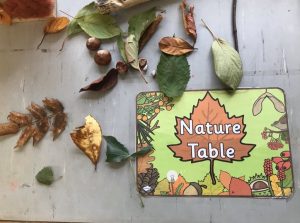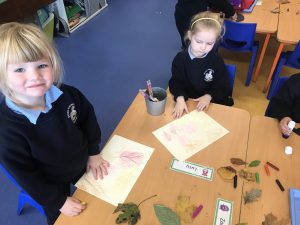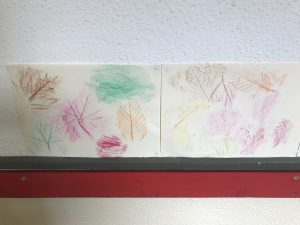 In Art we made Betty and Harry from 'The Scarecrows' Wedding' using paper, paper plates, fabric and straw. We decorated their wedding cake using patterns of shapes. We made autumn 'handprint' trees by drawing around our arms, filling the trunk with brown paper and printing the leaves using a peg and pom pom.  We used clay to make hedgehogs and we made witches, bats and silly pumpkins for Halloween! Take a look!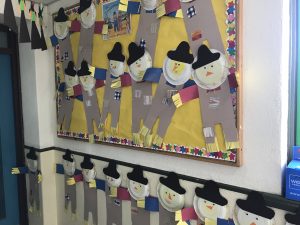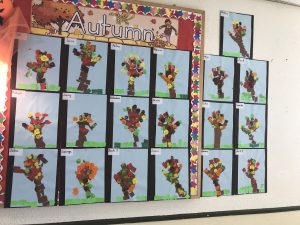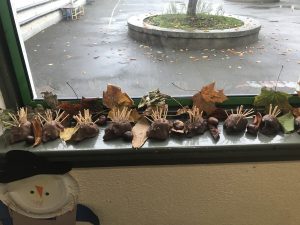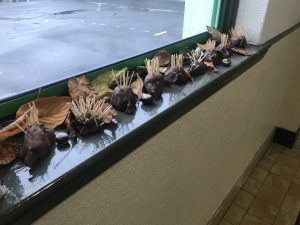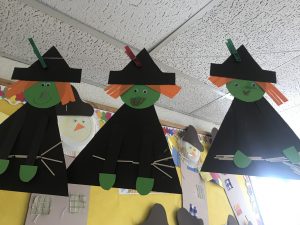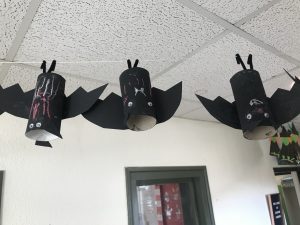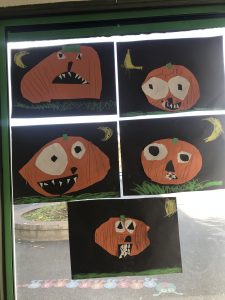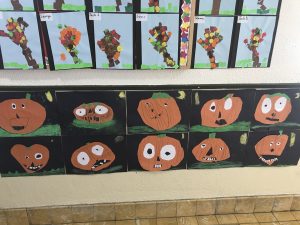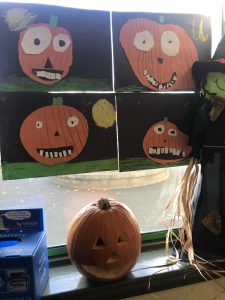 In Music we learned the song 'The Farmer has an Orchard' but we loved the spooky songs 'The Witch Rides', 'There was an Old Witch', 'Witch Song' and 'One Two Three Four Five Little Witches' that we learnt for Halloween. We continued with our gymnastics and had our last class with Steve for Ball Skills as we are moving to a new module of Dance with Ms Casey. Finally, in S.P.H.E (Social Personal Health Education) we continued to learn about ourselves – our identity and self-awareness; growing and caring for new life and the important people in our lives.
We hope you enjoyed our blog, tune in next time for our November news!