Interviews in Junior and Senior Infants
Hey guys, welcome to this month's blog story!
I interviewed Michael, who is a student in Mrs Black's class and Ms. Olson – one of the Senior Infants' teachers.
Michael really likes school and his teacher because he said both are fun! They do lots of Maths, English and Irish in his class and he loves most subjects. The best part of his day is playing with his friends in yard and in one word he described school as "good"! Michael, if you're reading, thank you very much for the great interview!
Next I had a very interesting conversation with Ms. Olson. She loves being a teacher in St. Anne's because of the lovely atmosphere, the children here are always happy and smiling, and it is a nice place to teach. She has been teaching here for two years and last year she was teaching resource. Last year she also taught in St. Peter's in Bray so she actually split her time between both schools! She said the funniest thing she has experienced in St Anne's was just recently, when she watched the children's reactions to the chicks hatching out of their eggs in her classroom. She loves Maths time because they play lots of games and she believes the children enjoy doing maths through play. The reason she loves teaching is because for her, every day is different, no two days are the same, and you meet and get to know so many wonderful children.
The big news in Ms Olson's class this month, was the hatching of the famous chicks – Mario and Lu-Cheapy. They went from eggs to chicks in her classroom! Unfortunately they grew up too quickly and the class had to say goodbye. The good news is that they have gone to a new home where they are very happy!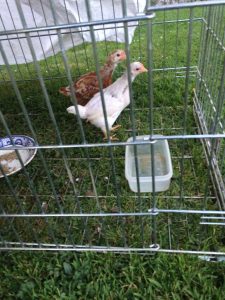 By Ava, Media Team