April News from Ms. Olson's Class!
Although April was a short month with our Easter Holidays, we packed a lot in! Our theme for the month was 'Clothes and the Weather'.
In Aistear, we enjoyed acting out the story 'The Scarecrows' Wedding' by Julia Donaldson in the Farm Home Corner. We also enjoyed having the wedding breakfast and party! We made 'jewellery' for Betty O'Barley from the story using beads and buttons in patterns. We designed a wedding cake for Harry and Betty using shapes in patterns and we started creating our own Betty and Harry scarecrows. In week two we enjoyed our time in the weather station. We pretended to be meteorologists and we gave the weather forecast on the television for our classmates. We made beautiful cloud and rainbow mobiles and we dressed paper dolls for the correct weather with a cut and stick exercise. We enjoyed dressing baby dolls depending on the weather. We loved engaging with water play too! We had lots of bubbly water, cups, jugs, bowls, spades etc. and enjoyed filling containers and pouring the water out! We enjoyed messy play on the tuff tray with rainbow shaving foam clouds and we used playdough to make outfits for different weather conditions on paper dolls.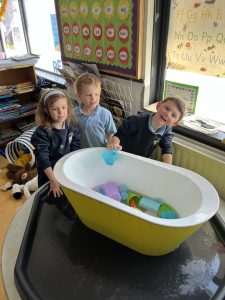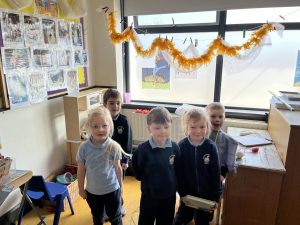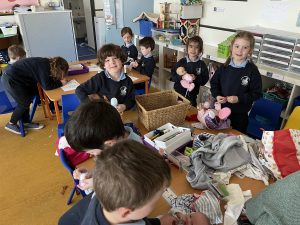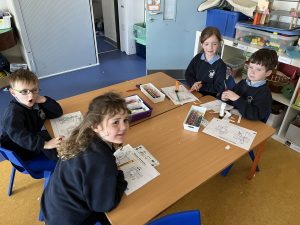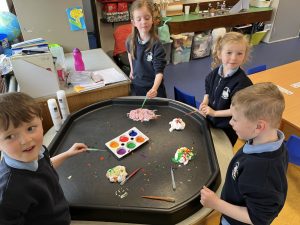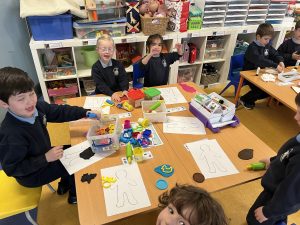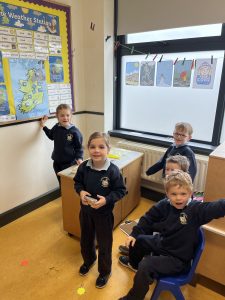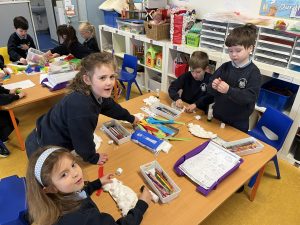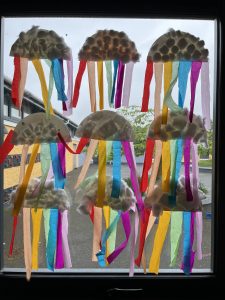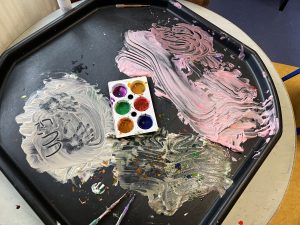 In English, we are loving being able to read independently. We read our differentiated readers when we have finished our work. We have finished our Jolly Phonics now and we spent the time revising our vowel and consonant digraphs. We are working hard at our letter formation and we are beginning to write our news independently too. We enjoyed reading and engaging with the story 'The Smartest Giant in Town' by Julia Donaldson and loved the kindness displayed by the Giant to people in need. 
In Gaeilge, we've enjoyed learning phrases, songs and poems surrounding the theme of 'An Teilifís' (Television). In Maths, we started learning about money. Money is a tricky topic to grasp especially in relation to the idea that a 2c or a 5c coin is more valuable than a 1c coin even though they are all single coins! To teach this concept, we start out with coin tokens instead of real coins. A coin token has dots on them to denote whether it is a 1c, 2c, or 5c coin. We played a fun exchange game whereby we exchanged 1cs for 2cs and when we had enough – for 5cs too. Once we had grasped the idea of the tokens, we used real coins to play the game. We also had great fun investigating what real coins looked like, what symbols they had on them, how the coins differed on the back and we looked up where all the coins that we had came from! We also did some coin rubbings pictures, and played shop with Ms. Olson using real coins.
In S.E.S.E we finished learning about animals and the farm and made our own butter. We shook cream in a jar until it started to whip before solidifying into butter. We poured off the buttermilk, added some salt and spread it on some bread. It was very tasty! We were very lucky to go and visit the school pond to see our newts and water minibeasts too. Thanks to our caretaker, Ogie, for showing us! We also learned about the weather.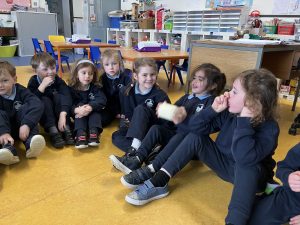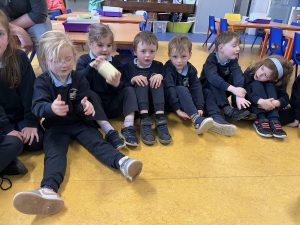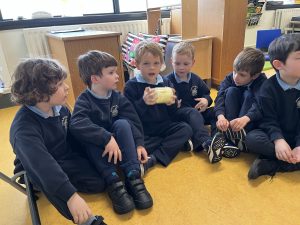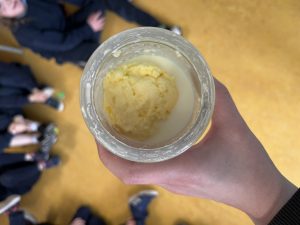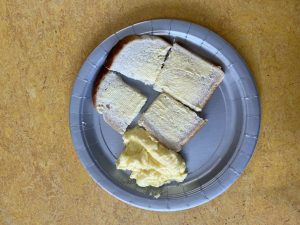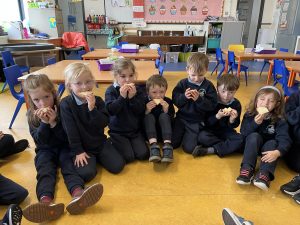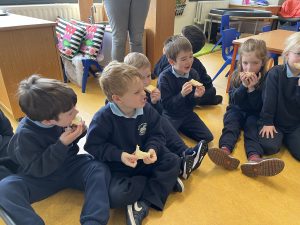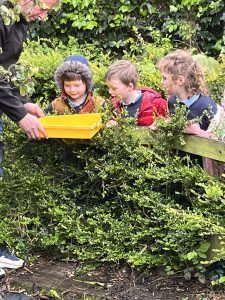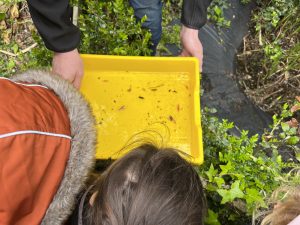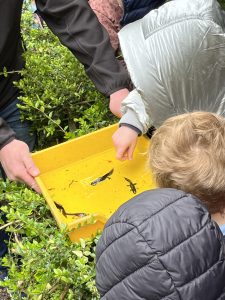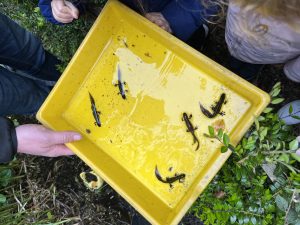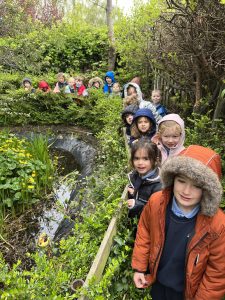 In Art, we  completed our farm frieze and are scarecrows that we had begun in Aistear. Take a look!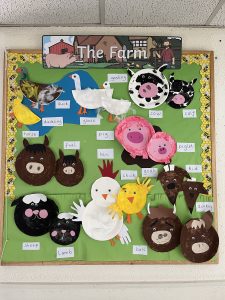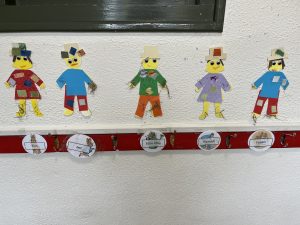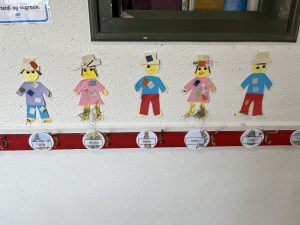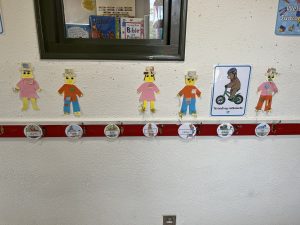 In P.E. we started learning how to play hurling with Coach Steve from Shankill GAA.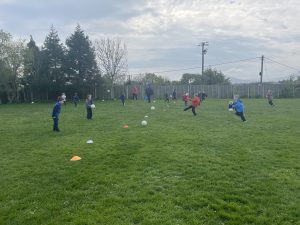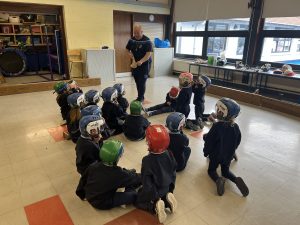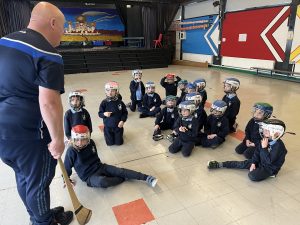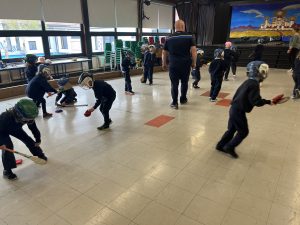 That's all for now, check back in soon to see how we got on in May and June with our lovely chicks!