Super Swimmers in 4th Class!
We interviewed Mr. Allen's 4th class. It was their first time doing the class swimming lessons in Loughlinstown Leisure Centre. The class did it for forty minutes every Wednesday for eight weeks. Once at swimming, the swimming coaches put the children into small groups.
Group 1 were the strong, high-level swimmers. They learnt to do all 4 strokes. The strokes they learnt were freestyle, backstroke, breaststroke and butterfly. Group 2 did 3 strokes – freestyle, backstroke and breaststroke. Group 3 learnt to do the front crawl. Group 4 were the beginners. During the 8 weeks, they learnt to swim. Well done!
I interviewed a boy in Mr Allen's class. He didn't do the first few weeks of swimming as he was nervous but after getting encouragement from his class-mates, teachers and coaches he gave it a go. He is so pleased he tried to swim.
Thank you for reading our interview about Mr Allen's 4th class swimming lessons. Finally, Mr. Allen is so kind – he gave each child 50c for the lockers!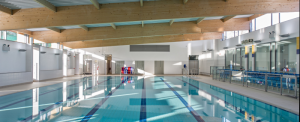 Written by Eoin Mulligan and Eoin Mac Dermot – from the School Media Team