First Class – Ms McManus
During the month of November, we spent a lot of time learning about space. The whole class showed such a big interest in space and had such amazing knowledge on the topic, that we even created a space table! Every morning, we would spend a few minutes discussing any new objects or creations that were brought in and placed on the table. We loved to spend any free time we had picking up some new knowledge from the amazing things people brought in.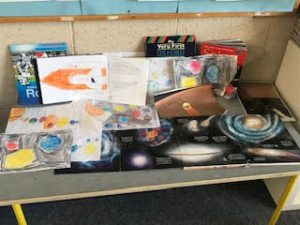 A really important person we learnt about during the month was Neil Armstrong, who was the first man on the moon. Did you know that Armstrong was just 15 years old when he got his first pilots license? He was also part of the National Aeronautics and Space Administration, or NASA, for many years. To help us remember these facts and to help us understand his life better, we created these 'Neil Armstrong Timelines'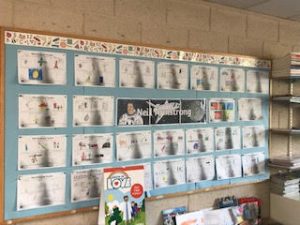 Before we started working on the topic of space, we wanted to show how much we already knew! We created a KWL in our copies, and a lot of us wanted to learn more about the planets. We started our lesson by creating large pictures of what we thought all of the planets might look like, and what order they might be in. Having discussed everyone's different ideas, we learnt a rhyme to help us remember the order of the eight planets: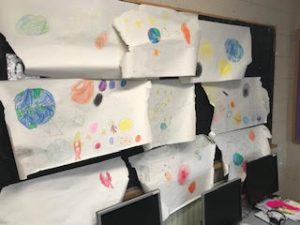 My Very Elderly Mother Just Served Us Noodles
Once we had learnt a little more about the planets, we created these space pictures! Can you believe we put black paint over our beautiful colouring? It was a little scary but we think it paid off!