Interesting Interviews in First Class!
I had an interview with Mr. Donnelly's class. They are enjoying First Class but when I asked them what they missed about Senior Infants, they said finishing at half one. They all said that they like basketball, football and dodgeball.
I got an exclusive interview with Flynn. Flynn is a six-year-old boy who has travelled all over the world. His favourite countries that he has ever been to are Cambodia, Bali and Thailand.
Mr. Donnelly then told me that the children in his class love when he teaches his favourite subject which is Science. He said sometimes they can act like cheeky monkeys! The class did an experiment to see how a helicopter can fly. They made their own out of paper. They had great fun flying them.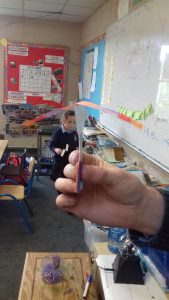 By Hannah, Media Team