A Busy Month in 5th Class!
This November in Ms. D'Arcy and Ms. Ní Mhurchú's 5th class we did quite a lot! "Mum's the word" – but we've been reading a lot of Shakespeare lately. That's just one of the phrases that the Bard introduced to everyday life. Other phrases you're probably familiar with are: "Not slept one wink", "Fashionable", "A wild goose chase" and "All's well that ends well". Old Spike Milligan has been broadening our imaginations with his crazy poetry including "On the Ning Nang Nong"
Our minds have nearly exploded with all the knowledge we've learned about Pompeii and Rome! We've made our own volcanoes erupt and wrote stories about life as a gladiator. We thought long division would divide our heads altogether but it surprised us by being very simple.
We also learned how to sketch and draw our classmates with fantastic results. In Gaeilge we've been using the APOE system which is an easy way for children to create sentences as Gaeilge. We've also been working hard on our Briathra Neamhrialta!
We hope you're on your best behaviour, because if not – who you gonna call? PEACE PROTECTORS! A group of us in fifth class have been given the responsibility to help out on yard and we have cool high viz jackets so we can be easily seen.
We all felt like winners when Sam Maguire came to visit. We even got to touch him (never washing our hands again!). What a busy month it was! – and December is set to be even busier. ..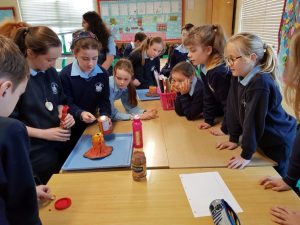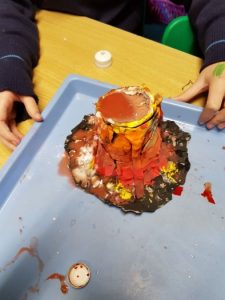 By Ava Mulcahy and Jennifer O' Dwyer